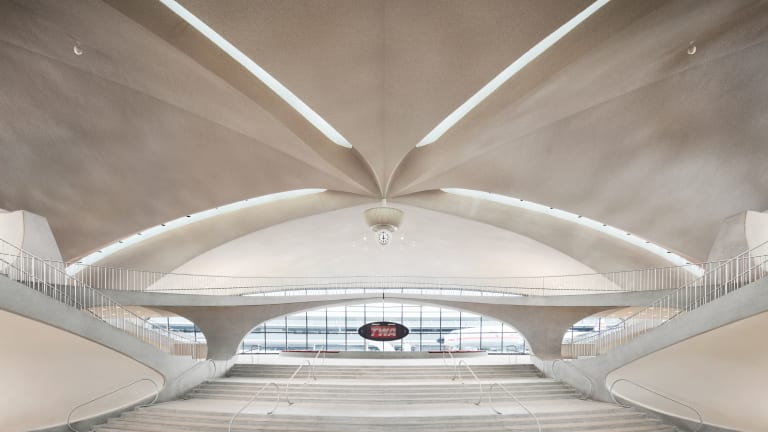 The TWA Hotel Is a Drool-Worthy Escape for the Travel-Obsessed
In a world where vacations and exotic destinations feel further away than ever, we could all use some luxury travel to daydream about right now. So while JFK's TWA Hotel looks back to the bygone golden age of travel, it's 100% something to look forward to in less turbulent times.
"Unique" is bandied about far too often these days, but there's no other way to describe TWA. The LEED-certified site opened in May 2019 in the former Trans World Airlines terminal, a fully functional commercial hub birthed in the '60s that has sat derelict for nearly two decades, save perhaps for the site of an iconic shot from Catch Me if You Can. Through its first-class design and top-flight amenities, it's a modern take on hospitality that proudly preserves its origin story.
It's best to book a (shockingly affordable) night prior to an early morning flight. Whether arriving by Lyft or Blade helicopter (available direct from Manhattan), you'll immediately be floored by the cathedral-like architecture. Designed by the Finnish Eero Saarinen, subtle Nordic design touches are met with grandiose concrete akin to Niemeyer's futuristic visions. Regardless of your destination, it's overwhelmingly transportive.
After checking in at the ticketing counter, you'll pass through the Sunken Lounge – there's not a more relaxing airport bar the world over. For another superlative, nearby stairs lead to the world's largest hotel gym (at 10,000 square feet), which alone is worth a visit on a long layover. And another set of stairs lead outside to a narrow-body jet converted into a chic cocktail bar.
Surrounding the lounge are numerous brand partnerships and affectations, juxtaposing the old—vintage Solari Italian clocks—and the new—a Shinola custom watch bar and Intelligentsia coffee stand. And overlooking it all is Jean-Georges' Paris Café and Lisbon Lounge, tastefully updated holdovers from the original terminal featuring sweeping windows. Pro tip for voyeuristic travelers – book a Historic TWA View room in the Hughes Wing to give dining room guests a view in flagranti.
Beyond the red-carpeted flight tube, you'll find an elevator bank connecting the 512 midcentury-influenced rooms and the rooftop heated pool & bar that overlooks nearby tarmacs. Heavy-duty soundproofing, via the second-thickest glass in the world, comes standard in all rooms. It's crucial if you opt for a runway view room, where you can gaze in silence out at landings & departures several hundred feet away.
To top off the TWA Hotel experience is a rare piece of peace of mind in the travel world – making your flight. Sleep in and leisurely stroll to terminals four or five, or take the AirTrain (free between terminals) for your flight the next day. Never before has flying felt this sophisticated or, dare we say, downright pleasurable.