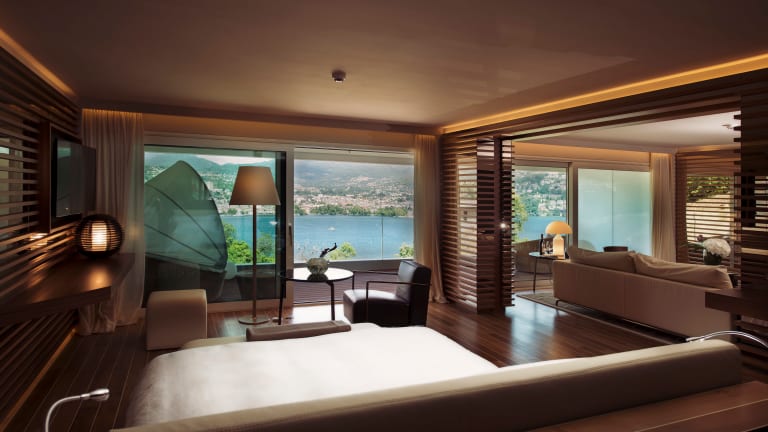 Review: THE VIEW Lugano Is Well-Deserving of Its Name
Add to your travel to-do list.
The Italian-influenced southern region of Switzerland, known as Ticino, claims 80,000 residents, 350 kilometers of alpine hiking trails, seven refreshingly cool lakes and approximately zero clouds in the sky. Also known as the Swiss Riviera, it's where the Germans and Swiss from the north come to get some summer sun. And in Ticino's southernmost tip lies Lugano, an immaculate lake town featuring luxury residences and elegant resorts. Should you visit, you'll want a hotel that offers access to the best of Lugano; for that, look no further than THE VIEW Lugano.
The hotel is more than well-deserving of its name and, beyond that, the variety of distinct offerings at THE VIEW Lugano is staggering. The sleek mirror- and wood-paneled suites, all 18 of which boast a balcony ideal for a sunset bottle of champagne, can be ultra-personalized, from customized fragrances to bed linens. They're high-tech too, thanks to in-room iPads acting as controllers for heat, lighting, and concierge communication. Complimentary bicycles and Smart cars, both electric, are available at all times for guests seeking out isolated alpine nooks or thronged thrills like leaping from the Roman bridge of Lavertezzo (you'll want to Google that) less than an hour's drive.
Things get especially interesting in the spa, where Hammam rooms are just the beginning. A salt room, chromotherapy showers, and Thalassotherapy treatment rooms put your gym's standard steam room to shame. Most importantly, the staff is deeply knowledgeable on each room's benefits for those who don't regularly indulge.
Even outside the confines of the property, the staff is exceedingly helpful, starting with a limo or town car pickup from the airport or train station. Whether you're keen to mingle with tourists or live like a local, they're full of suggestions on Lugano's best bars, sunrise hikes, and restaurants accessible only by boat, of which there are a handful. Baby-sitting is available upon request and at least a few members of the concierge team could moonlight as cartographers; their detailed maps of the surrounding area make navigation just a little more special.
For those familiar with Lake Como, Lugano might feel like a smaller yet under-the-radar alternative. A Japanese saying, popular with proud locals, roughly translates as "Lugano is where God stopped" and, considering all the skyward trails, lakeside villages as vertical as they are romantic (read: very) and crystalline waters, it's easy to see why. And there's something exceptional about experiencing the best of nature and the best of hospitality simultaneously. If you're plotting a weeklong honeymoon blowout or just picking a quick overnight break from your megayacht parked in Portofino, you'll be more than pleased with THE VIEW Lugano.