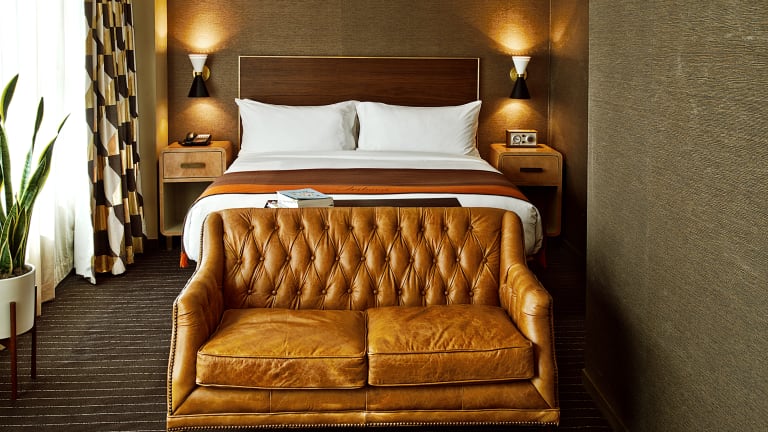 You'll Never Be Bored At This Beautiful NYC Hotel
No shortage of amenities.
Some hotels are known for quaint atmospheres, intimate lobbies and meticulous attention to detail regarding every element of the traditional hotel experience. They're usually smaller, quieter, and designed to make guests feel almost as if they were staying at a good friend's home or a bed and breakfast.
The Roxy is not one of these hotels. Located in Manhattan's TriBeCa neighborhood, it's more like a neon-lit carnival offering up tons of stimulation. But sub out the rides and attractions for access to amenities like an underground speakeasy, unforgettable live shows, a barbershop and a private cinema. You'll even be given a temporary pet goldfish upon check-in (strictly optional).
Formerly known as The TriBeCa Grand Hotel, The Roxy underwent a re-branding last year to focus more on music as a theme and to differentiate itself from sister hotel and go-to club spot The SoHo Grand.
The result is a unique vinyl record stack in each suite and an elevated live jazz program that would make Kamasi Washington blush. Any given weekend night is sure to yield a blistering trumpet or sax solo from a living legend, sending the always-great bar crowd into a frenzy.
It's moments like these that may end up being the highlight of your stay and emphasize The Roxy's out-of-room experiences.
But don't let the high energy of the world at the lower levels allow you to think that the hotel won't still be restful. An apparently heavy application of soundproofing keeps the loud brass downstairs out of your room, which is surprisingly spacious for a New York hotel. You'll easily melt into the giant beds and those records aren't far away if the evening (or next morning) calls for a mood-setting soundtrack.
Whether you're a guest or not, there's something special about The Roxy's playground-like vibe; don't beat yourself up too much for favoring fun over sleep if you find it to be your temporary home. And besides, in a city like New York, who'd want to feel like they're at home anyway?