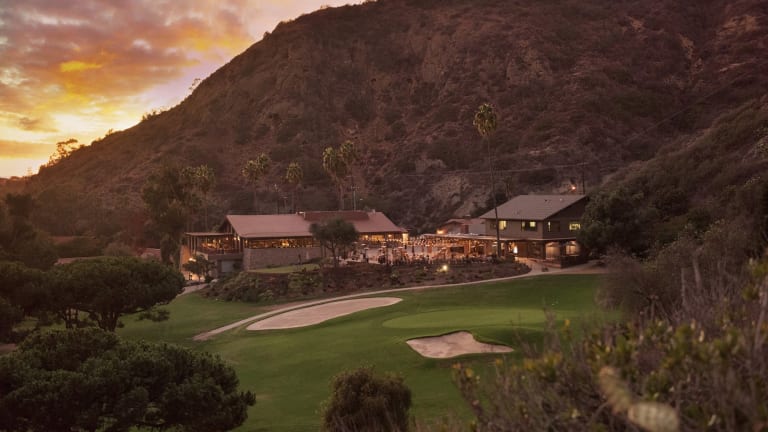 Indulge in the SoCal Lifestyle at This Outdoorsy Orange County Hotel
Sports and spa where the canyons meet the beach.
Since National Geographic recently named The Ranch at Laguna Beach to their list of Unique Lodges of the World, here's a geographic tip to locate the place: turn off the Pacific Coast Highway as it passes by Laguna Beach (exit east, that is, please don't drive into the ocean) and you'll immediately be on the resort's property. The hotel driveway follows the bank of Aliso Creek a short way into two canyons so gorgeously deep that cellular reception is spotty and the staff at the check-in desk will encourage you to avail yourself of their flawless Wi-Fi during your stay.
We happily ignored the Wi-Fi advice when we were invited for a recent visit as guests of the resort – we opted to leave our gadgets turned off, the better to appreciate the amenities of this privileged spot that's perfectly located to offer the best of beach and canyon activities.
There's a nine hole golf course, mountain biking, bocce ball, nature hikes, beach volleyball, ocean kayaking, and stand-up paddleboard. On Fridays, there are stargazing activities with a local expert.
Hearty meals (no frou-frou "small plates" here, thank you very much) are served at Harvest Restaurant, with much of the produce sourced from the ranch's own gardens. On the terrace overlooking the golf course is Ben's Pantry which at first glance appears to be just the kiosk counter where you pick up your coffee and baked yummy. At second glance you realize there's a full-service bar cunningly fitted into that small space. (You may not know Ben, but he knows you.)
Treatments at the hotel's Sycamore Spa include a signature massage with cold seashells and warm smooth stones.
Accommodation options include creekside and canyon-view rooms and two-story cottages overlooking the golf course. The artwork throughout is by local artists (Laguna Beach has long been known as a Southern California arts colony) and beach-y designs from Tuvalu. For a splurge stay, there's the octagonal "treehouse" with full-length windows, 1600 square feet of space and a wraparound deck.
Evenings are a special time to enjoy the quiet of the canyon. The pool and hot tub are open around the clock.