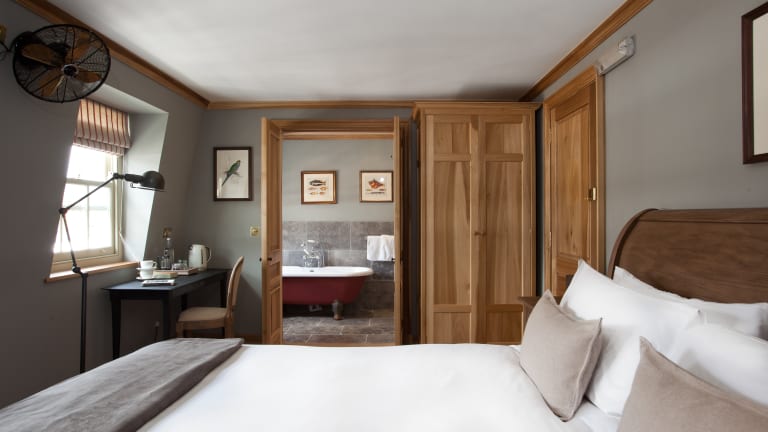 Review: London's The Grazing Goat Is A Stylish, Rustic Getaway Spot
They get everything right.
The Grazing Goat may sound like your infant nephew's favorite bedtime page-turner, but they say you can't judge a book by its cover and you certainly can't judge this hotel by its name. What appears to be an upscale gastro pub is actually the first floor of an eight-room hotel in London's beautiful Marylebone neighborhood that combines a small-world atmosphere with world-class hospitality.
A unified, rustic aesthetic pervades the restaurant and the rooms- there's elements like strong wood used on the desks and tables, shale coloring, tasteful taxidermy springing from the walls and heaps of natural light. It's similar to a cozy B&B but in a masculine way that swaps the paisley and frilly pillow covers for a more minimal approach. In short, it's got most of the ruggedness of a hunting lodge but sans the dampness and dimness of Winterfell.
As for the rooms themselves, they all feature cloud-like, king-size beds and strong tactile elements like handles, key rings and desk drawer knobs. As with the best hotel stays, it's the little things, in this case top-shelf facial products and the genuinely delicious chocolates (forget Andes mints) left on the bed during every turndown service, that complete the experience.
And then there's Marylebone, the surrounding affluent neighborhood that's like the suburban dream of an early 30-something keen to start a family but not ready to abandon the urban sprawl just yet. Think of sunshine spilling onto seemingly every corner, pristine white storefronts (the French-Japanese Fishmonger spot across the street is too cool) and immaculate sidewalks. It'll be one of your favorite neighborhoods, ever.
As enjoyable as it may be to luxuriate in your stately room or explore the area, the staff make it difficult to want to leave the restaurant area. Their cheeriness is infectious as they chat amongst each other while not forgetting to be friendly with every patron. Exemplifying above-and-beyond ideals that are less than common in today's hospitality industry, one server named Andrea noticed a father about to take a picture of his family. She not only rushed over to the table in a whirlwind of smiles and enthusiasm before he could snap the pic, but yanked a chair from a nearby empty table and leapt on top of it to get the best angle. On her way back to the kitchen, she informed a couple that their room would be ready in 10 for early check-in (it was 9:30 a.m.).
It's almost perfectly summed up in The Grazing Goat's philosophy of 'Our House is Your House'- except we think that 'Our House is Your Home' might be more appropriate.