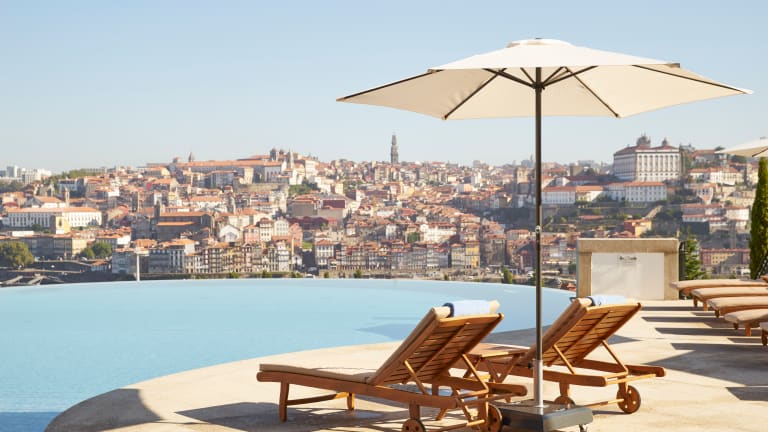 Come for the Port, Come for the View, Stay for Both at Porto's Yeatman Hotel
Portugal's second-largest city has always played second fiddle to Lisbon. But heaps of new direct flights, Douro Valley wine's rising star and an infallibly fresh dining scene are giving Porto its rightful moment in the sun.
And the city can't be beaten when that sun warms the coastal cobblestones. So it's only fitting that in a city that screams outdoor vibes that the courtyards, patios, and views of The Yeatman Hotel and its sister hotel Infante Sagres are what make them supremely ideal for throwing your bags down and kicking your feet up.
Situated directly south of the river near many of the city's Port wine lodges, The Yeatman is a wine enthusiast's promised land. Selections in the room, by the pool or at the restaurant are impressively comprehensive and guided wine tours are aplenty. However, these offerings feel like a relative afterthought once you start sipping on the patio. You've probably seen shots of Porto's riverside esplanade before but the view from the afternoon up here is on another level - The Yeatman and city sunsets go together better than the Italian Riviera and a negroni.
A picture may be worth a thousand words but we'd rather spend a thousand euros (spoiler alert: you won't) to wake up with an espresso on one of the hotel's private terraces. All rooms come equipped with one, and a handful even offer a private plunge – for those that don't, luckily the hotel's other Insatgram centerpiece is its decanter-shaped infinity pool that you'll likely find yourself at daily.
Across the river, in an objectively more central neighborhood sits Infante Sagres. While the pool isn't the piece de resistance this time around, the hotel's Vogue Café is as chic as Porto's eponymous potable is sweet – very. You'd be hard-pressed to find a breezier backdrop for lunch than the café's courtyard, with blue skies above, black and white tiles below, rapid-fire Portuguese banter on all sides of you.
As for the rooms, The Yeatman's British-leaning motifs and Infante Sagres' regality permeate the interiors, but the best trips to Porto won't be ones spent indoors. After all, when you're at a riverside city, this close to the beach and densely dotted with open-air bars and wineries, inside is the worst place to be.