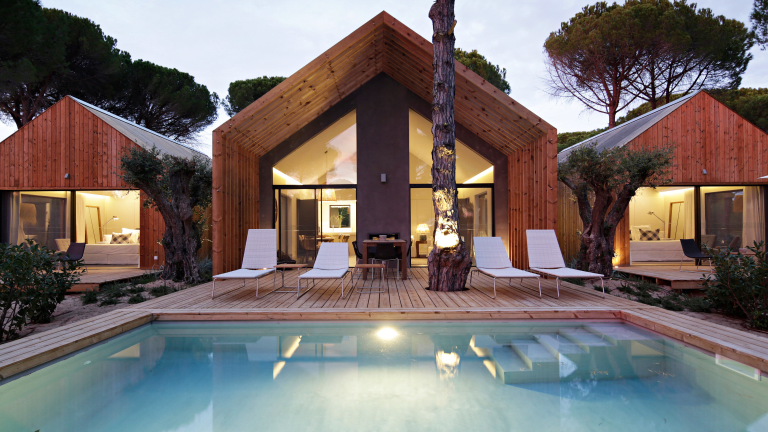 Where to Stay and What to Do in Portugal's Coolest Up-and-Coming Beach Town
You might catch yourself thinking like Neil DeGrasse Tyson, perhaps about microclimates and the separation of continents millions of years ago, in Portugal's Comporta. At least if you've ever visited Southern California, while it's ~6,000 miles away, Comporta feels so strikingly familiar that you'll swear you've trekked the same beach and seen the same ice plant-covered hill before. But one foot past the threshold of Sublime Comporta, the finest hotel in the serene Portuguese village an hour-ish south of Lisbon, and you'll be sure you've never been here before, else you'd have never left in the first place.
Comporta already counts several celebrities, including Philippe Starck and Christian Louboutin, among its 1,200 residents. While that's hardly important, it's a good sign of this town's under-the-radar, private escape status. The townspeople, who couldn't be bothered to ask or care about star status, complement the locale's uncanny valley of San Diego with their laidback nature and two-factor priority list for any given day: great ceviche and great waves. Unsurprisingly, it's not hard to check both boxes.
And Sublime Comporta even further adds to the offer of ultimate peace & relaxation. Scattered around a forest a couple miles from the sea, the Sublime's 22 villas & 14 suites are the slickest soundproof mini-compounds you'll ever see. On top of the pin-drop silence, the villas' grey-and-white color schemes and tastefully sparse décor imbue the premises with the atmosphere of a lunar settlement. Not to say Sublime feels sterile as a result- the natural wood, fine sand grains and the Portuguese umbrella trees' bobbing tops make the hotel feel more Joshua Tree-glamping than Space Odyssey: 2001. On that note, HAL also isn't as accommodating as Sublime's staff, eager to whisk you something from the 24-hour room service via golf cart.
You can spend a long weekend or a loungey fortnight in Comporta. If the former, it'll be just enough time to hit most of the best local spots, like the quietly cool Casa Gomes, the horse-stables-turned-fine-dining-destination Cavalarica and OBA, a simple outdoor slab of a bar where the young surfers can be found unwinding any given night. An absolute must is Restaurante Sal, with a location so sunset-prime that we couldn't blame you for shedding a tear of appreciation for the tranquil simplicity. It's all within a 15-minute drive from the hotel.
If you're leaning toward a longer stay in #todaysoffice heaven, however, Sublime's diverse amenities and offerings make it easy to leave that OoO auto-reply active for just one more day. Private plunge pools, adorning all of the villas, are the only the beginning of the long list: a comprehensive spa, bicycles for getting around town, paddleboards, surf lessons and, most epic of all, horseback riding across Comporta's shoreline windswept sand dunes. And if you're on the hunt for a destination wedding venue, let's keep the conversation brief: yes.