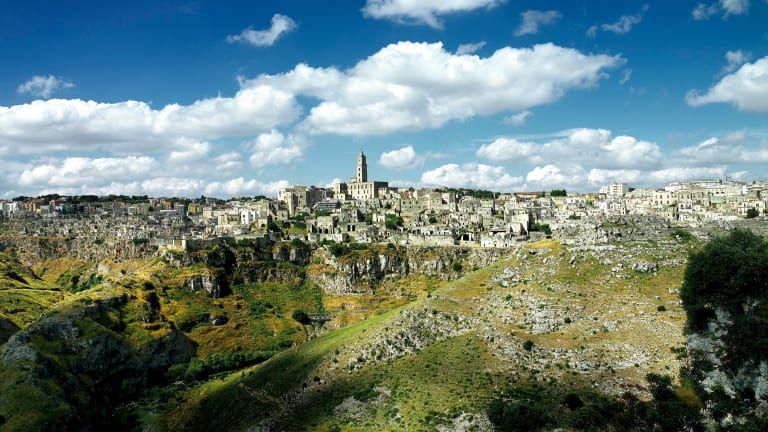 Italy's Coolest Hotel is in a City You've Probably Never Heard Of
Cave in.
Italy has no shortage of internationally recognized destinations. But while Florence, Rome and Venice might dominate dinner party conversations, there's thousands of cities throughout the country patiently waiting to blow your mind. Start with Matera, a vertically inclined ancient cave city in the state of Basilicata, and you'll set a high bar for the rest of the country. Set the bar unfathomably with a stay at Sextantio Le Grotte Della Civita, which takes the idea of cave-dwelling to a whole new level.
It's not a gimmick- you get a sense of the vibe upon check-in (with an exceedingly charming and hospitable staff). Timeworn steps lead to an open-air terrace with entrances to the concierge and kitchen on one side, jaw-dropping views of the steep valley below on the other.
Rooms are located further along the same narrow path, meaning that a panoramic view is only steps from your bed.
Each of the hotel's 18 rooms are unique – no floor plan is the same and the designers paid respect to the interiors by permanently altering as little as possible. Some rooms have quirky features, like one room's study that's more similar to a large walk-in closet (watch your head). There are only a few ocular windows carved into the stone, so candles, the main source of lighting, rest on shelves and ledges carved into the rock. Showers in each room are placed such that the water drains into areas with natural curvature. For a luxury hotel in 2017, Sextantio is a modern experience that draws from the environment and not overused themes.
It's immediately apparent that Sextantio is not only the 'nicest' hotel in the city, but also that it offers the most authentic experience of Matera. Hidden on the backside of the hilly town, Sextantio's outdoor terrace-paths gives you a panoramic view of the surrounding countryside yet only a minutes-walk from the heart of the city. The city's residents are rarely rude, often young and always enthusiastic, especially when it comes to guests. A mention of where you're staying will draw knowing nods of approval- making friends of strangers comes easy in this place.
Despite the gregarious residents, the sense of peaceful isolation you may experience upon entering the city proper and its no-vehicle zone is only accentuated by the hotel. Ancient but not trapped in time, Matera is the perfect home for Sextantio. You're not likely to coincidentally find yourself in the area, but Sextantio makes the long journey to this underrated corner of Italy well worth it.