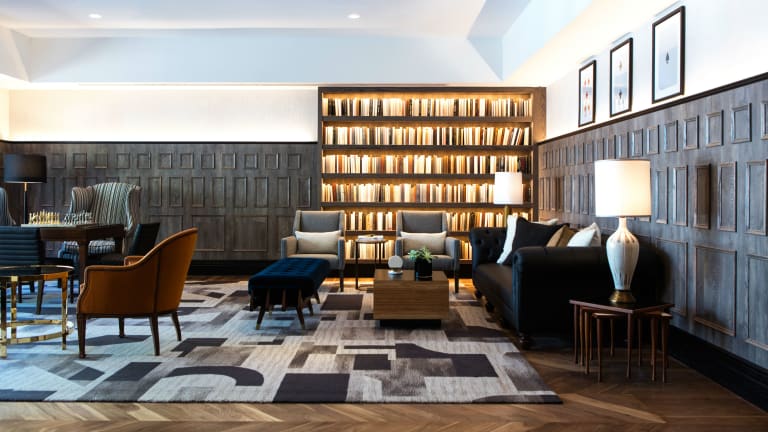 Inside Washington D.C.'s Coolest New Hotel
Mason & Rook gets everything right.
Washington, D.C. has long been a center for business and tourism, but only in the last eight or so years has the capitol shifted its spotlight regarding both inhabitant and tourist. With the arrival of a more modern president came younger residents more interested in design, style and dining than ever before. Suddenly what was once status quo for the district's old guard was pretty passé to the new kids on the block.
With younger residents come younger visitors, eager to seek out nationally recognized bars and restaurants like recently Michelin-starred Rose's Luxury, not just history etched in marble sculptures. They pass over cookie-cutter hotels for the masses and instead choose something a little more bespoke, something like Mason & Rook. Professional yet thoughtful in design and a quick walk from dozens of hyped bars, the Kimpton property makes for an ideal temporary HQ in the District for business, pleasure, or a little bit of both.
Despite 178 rooms, reputable chefs and headliner amenities like the rooftop pool (open in Spring and Summer), the hotel manages to impart an intimate and at times communal vibe. Through free offerings like a daily wine hour in the afternoon and a Shinola watch "Butler" program–a loaner service that includes style input from the staff–does a city heavy on square-tipped dress shoes feel a little more personable.
You'd be forgiven for forgetting that the spot is owned by a national chain on Wednesday evenings, when local artists, designers, tastemakers etc. are invited to host a discussion in the living room-esque lobby. And the (effective yet sparingly used) art pieces adorning both the common areas and rooms feel like items you might encounter in a friend's apartment, each one with some charming story.
Then there's that versatile rooftop: quiet enough to nurse a morning hangover in a lounge chair or in the water, semi-riotous by high noon and then all casual candlelit romance post-sunset.
Careful not to lose a whole day up there as down on the ground floor, the in-house restaurant, Radiator, is worth a visit or three. Lead bartender Sara Rosner slings some fine cocktails by the outside patio firepits or in the bar, possibly modeled directly after the study from Clue. And as far as snacks, courtesy of executive chef Jonathan Dearden, early or late, three words of advice: bacon fat fries.
After all the meetings and conference calls, there's plenty to discover in the District and Mason & Rook's slickly tactile design elements and amenities strike the right balance between work and play. So if you're in town purely to button up for meetings, do yourself a favor and book the weekend – you'll want to loosen your collar at Mason & Rook.