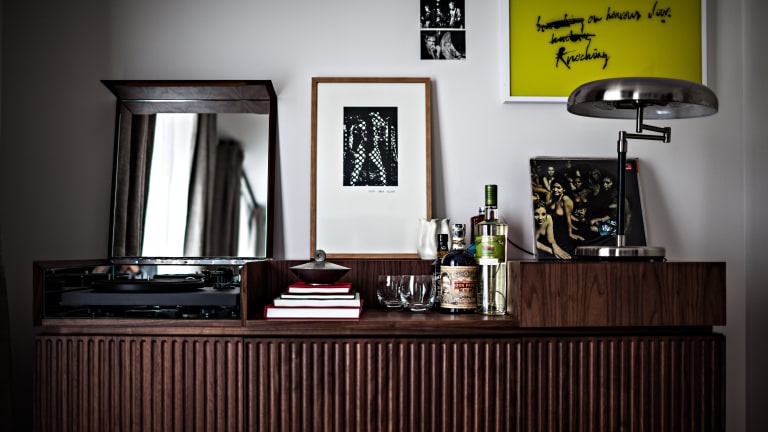 Review: Le Pigalle Is One of the Coolest Hotels in Paris
The Pigalle neighborhood in Paris is known for louche burlesque nightclubs, smut-slinging shops, and a hazy film that permeates the air. But there are glimmering pockets of effervescent sophistication and style, chief among them the boutique hotel Le Pigalle.
The 40-room hotel is home to the kind of lobby-slash-cafe all hotels should strive for—lunching locals and chatty staff, buzzing espresso machines and spilling natural light. And on weekend nights, it transforms into a hip vinyl club, cementing Le Pigalle's status as a natural co-mingling hub for visitors and locals.
But Le Pigalle's top asset is music. Modern French pop plays during the daytime, tasteful rap glides off the decks on party nights, and each room is well-stocked with a turntable and vinyl from the hotel's extensive record collection. On queue for your own private dance party could be a chin-stroking and eclectic mix of Deodato, Madlib, Talking Heads, and/or Francis Bebey.
Despite the late-night revelry popping off just a few flights away (more on that later), the rooms are shockingly serene and a feast for the senses. Evidence of collaborations with local mixologists can be found in the minibar's pre-mixed cocktails, but taste doesn't steal the show like scent does. If you've been chasing down the olfactory equilibrium that is Le Labo's Santal 33 ever since you caught a musky-smoky first whiff, consider your hunt concluded.
The hotel's immediate surroundings would leave any pleasure seeker wantless. There's the aforementioned salacious local flavor, and Le Pigalle's new Le Café next door sells sinfully tasty croissants. And directly across Le Pigalle's street, Rue Frochot, one encounters several cocktail bars and a couple bleary-eye-inducing nightclubs, catering to any definition of the perfect nightcap. Our pick: Dirty Dick, a tiki bar specializing in frozen bevs whose name carries over from the space's former life as a Corsican-mafia-owned sex club.
Destination-worthy nearby neighborhoods are more plentiful than the cast in a Wes Anderson film. The Marais's trendy shops and the 11th's classic wine bars are a stroll away, and Sacre-Coeur's gleaming white façade at sunset in Montmartre will win over even the most skeptical sightseer.
Just as much as Rue Frochot is a diamond in the rough within the Pigalle neighborhood, so is the hotel among Paris's painfully sterile hospitality landscape. Few other overnight stays in the city serve up a comparable menage-a-trois of coziness, class, and contemporary cool.