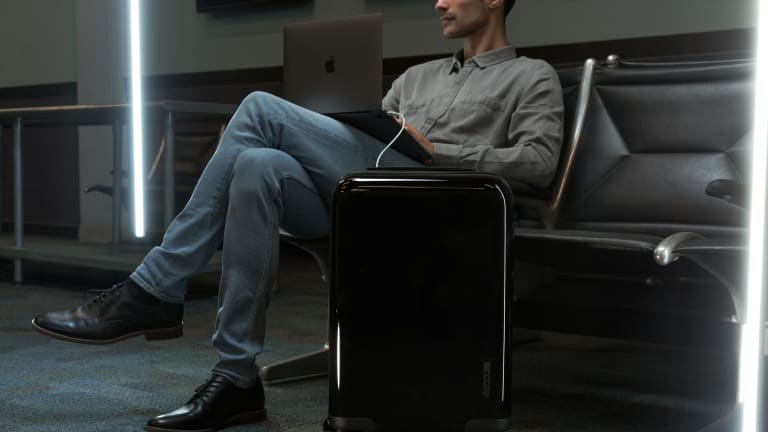 The NoviConnected is a Super-Functional, Phone-Charging Piece of Luggage
Let's roll.
In its quest to make commuting, traveling and getting from A to B, in general, more comfortable and more stylish, Incase just launched their new NoviConnected carry-on. It's got all the usual fixings of a hardshell, 4-wheel roller but it's the tech inside that anoints this a super-functional piece of luggage for any modern-day creative or professional on the go.
Equipped with a hip-height (ish) power bank featuring USB and USB-C ports, the NoviConnected can charge two devices at any given time, MacBooks included. The 10,050mAh capacity battery is nothing to joke about- that's enough juice for four full iPhone charges.
You can monitor the battery level with the Incase Smart App. For more dire situations, the app even tracks the luggage by providing dropped pins for last known locations, notifications when it leaves a certain proximity and the ability to trigger an alarm (not recommended for use in the TSA line).
We've been testing the NoviConnected on the road over the last several weeks and it lives up to all the hype, both in form and function. It feels impossible to drain the battery past 50% the luggage is a smooth ride thanks to well-built wheels that seemingly glide across any surface. And the hard shell makes it a smart choice for any fragile-goods- or tech-heavy travelers accustomed to overhead bin paranoia. Our favorite feature- never having to worry about the plane offering below-seat outlets again.
It's available now for $299.95 in a modern palette of clean colors.