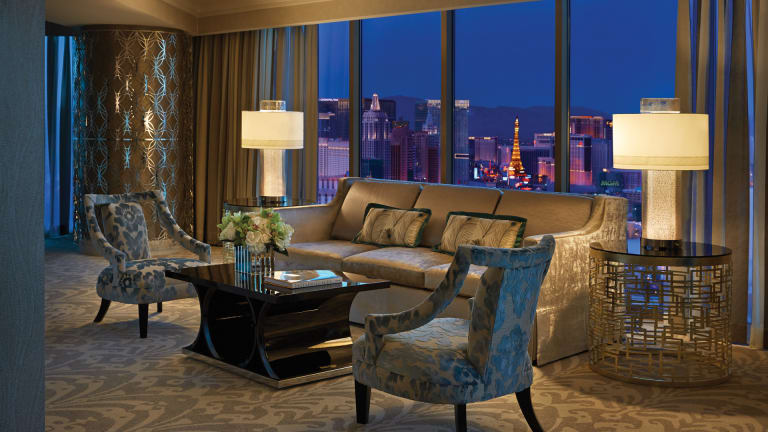 How to Do a Low-Key Bachelor Party in Las Vegas the Right Way
No champagne showers and EDM-headaches allowed.
Destined, at some point, one of your best mates will want to take their last single pilgrimage to the Nevada desert.
We don't blame them. After all, Sin City is unofficially the indulgence capital of the world, we're just hoping that it comes at a point where high-grade times outweigh cake-tossing clubs.
We were lucky enough to get the full treatment the last time we were in the city courtesy the Four Seasons Hotel Las Vegas. If you prefer lavish luxury over penny slots and cheap strip clubs, here's the way to do Vegas right:
Arrive At the Four Seasons Hotel Las Vegas
Ditch the run-of-the-mill options for the grand Four Seasons Hotel Las Vegas. Still located on the iconic Las Vegas strip, the art-deco inspired property offers direct access to the adjacent Mandalay Bay Resort & Casino and will serve as your private oasis without all the noise.
Located on floors 35 to 39 of the Mandalay Bay tower, positioning your party in Strip-View Rooms will award your group unsurpassed views of the world-famous Las Vegas Boulevard and surrounding desert landscape thanks to their floor-to-ceiling windows. Also appreciating their stylish design elements – backlit mirrors, marble flooring, separate soaking tub – will grant your group a deluxe recharge-retreat to relax when not celebrating with one too many glasses of Blue Label.
Go Poolside Without The Long Lines
The private outdoor pool and whirlpool at Four Seasons Hotel Las Vegas is the refined way to enjoy some Las Vegas fresh air. The lushly landscaped pool deck offers de-stress vibes without the champagne showers and EDM-headaches. There are private cabanas for the group to take in the well-mannered experience, with attendants frequently checking in on you with complimentary Evian spritz, fresh fruit, and chilled water. Going poolside may never feel the same after this.
Experience The Gentleman's Collection At Four Seasons Spa
Throughout the acclaimed Forbes Five Star Spa, the Four Seasons Spa offers a fully customizable experience and the perfect pre-game for a night out. Warm colors, natural materials, and soothing artwork await as you decide on which personalized treatment you'll want to take pleasure in. It's the ideal way to reenergize your party for a nighttime happening.
Get a Taste of Italy at Veranda Restaurant
Gathering your group for a top-end dinner has never been easier thanks to Veranda, the authentic Italian cuisine eatery exclusive to the Four Seasons Hotel Las Vegas. You can even take it up a notch and secure one of two private dining rooms for a more intimate gathering. Enjoying housemade pasta, braized meats, wood-fired pizzas and fresh seafood with your best friends secluded from the racket seems like a no brainer.
Skipping the scene-y commotion will truly offer up a premium escapade for your bachelor party. And while we know checking out of the Four Seasons Hotel Las Vegas will be tough, your best friends will thank you down the road for an unforgettable, high-grade Las Vegas experience.
Just make sure to blend in some irresponsible gambling, good times with the best looking Bachelorette party at the pool, and the kind of drinking you wouldn't want your boss to know about.