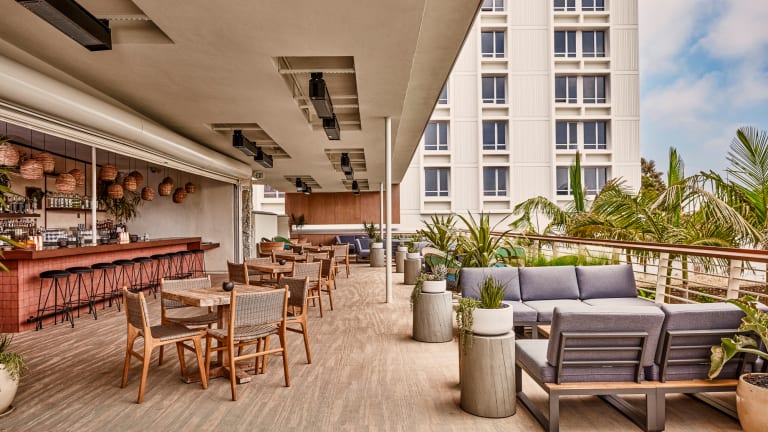 Endorsed: Hotel June Is an Oasis Built for SoCal Eternal Summers
June may well be the best month. For many, it rings in the best months of the year and evokes a dreamlike vision of luxury travel spent, ideally, by the water. With its eye for design and open-air pool, there's no better association for Proper Hotels sister-property Hotel June to stake its eponymous vibe on.
Opened in the summer of 2020, Hotel June was envisioned as West L.A.'s newest lifestyle hub. There are few distractions from the distinctly California vibe, with succulents, white accents, and golden light spilling into every room. Everything comes together for a seamless aesthetic, one that often costs multitudes more at other boutique hotels compared to June's affordable nightly rates.
But the pièce de résistance is the Caravan Swim Club, June's haven for outdoor dining, lounging, imbibing, and swimming. Cabanas and lounge chairs surround an XL plunge pool, with sun and attentive wait staff overlooking all, the latter slinging ceviche and cerveza from the elevated kitchen one flight up. The full-service restaurant itself makes for a sublime brunch when SoCal's air is warm enough, even though the water mightn't be. Regardless of the season, it's a wormhole to a perfect Saturday morning (likely into afternoon… and potentially evening).
While it's LAX-proximate, referring to it as an international stopover spot would be coarse. It's equally a staycation destination for local Angelenos as it's a home base for out-of-towners seeking the pleasures of nearby Venice and Marina del Rey. And like any perfect home base, it's best enjoyed poolside with a tropical cocktail in hand.