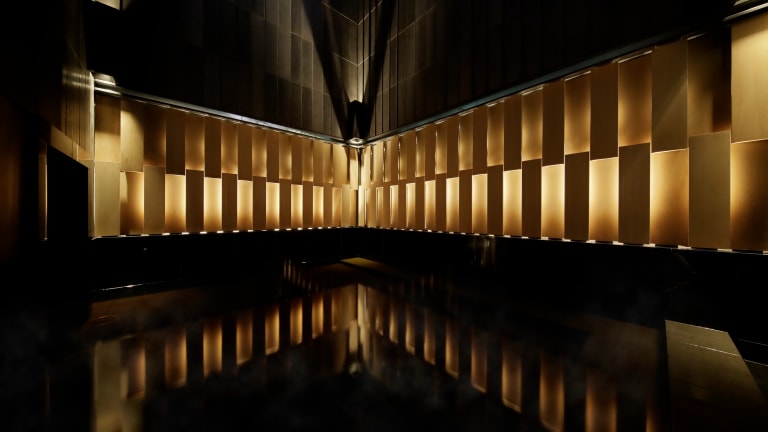 Review: Hoshinoya Tokyo Is an Oasis in the Middle of the World's Coolest, Busiest City
A visit to Hoshinoya Tokyo feels like a once-in-a-lifetime experience. Its mere existence, a countryside-style Japanese ryokan dropped into the middle of Tokyo's bustling financial district, feels preposterous. Not to mention that it's the only ryokan-style hotel in greater Tokyo. But Hoshinoya's parent company, Hoshino Resorts, takes their ryokan game seriously – for example, whereas a traditional ryokan would only use springy tatami matting in the guestroom, here it is used throughout the hotel. Understandably, it's a shoes-off situation at all times, but maximum decompression is successfully achieved in the process.
No detail is overlooked, no design touch left unconsidered, no staff encounter thoughtless. Interiors, like the dining room entrance (below) have a relaxingly low center of gravity, and the wood-heavy furnishings in the rooms are conducive to meditative states.
Of the tower's 17 floors, 14 of them are designated for guest rooms – 84 rooms total, with two per floor corner suites offering wraparound stunners. And the higher you go, the better it gets. The basement is an ascetically minimal lesson in subterranean fine dining. The entry floor presents a long foyer, fielding ornate ikebana in the back and ever-attentive staff in the front, murmuring into their microphones with professional subtlety.
After breezing through the second floor's check-in (and one of the daily free sake tasting sessions if you time it right), you'll be whisked to your floor, each one offering a communal lounge fully stocked with crème de la crème Japanese treats including mochi ice cream and Pocari Sweat. The drool-worthy rooms themselves boast nest-like beds, walk-in closets and TVs elegantly and convincingly hidden behind full-length mirrors. Perhaps the most interesting detail in any of the rooms is actually on the outside – the exterior lattice pattern wrapping the tower is a traditional design where one must get very close to observe the finer detail. It's a treat during both sunrise and sunset.
And last but not least, on Hoshinoya's 17th and top floor, prepare yourself for a zen-conferring voyage through tranquility itself in the hotel's Japanese onsen. Whereas a typical onsen (which are essentially saunas served by natural hot springs) might be a windowless room in a modest bathhouse, this one couldn't be a more dramatic affair. After disrobing and wading through a kneehigh waterway, you'll enter a surreal roofless chamber, fully exposed to the sky above. It's James Turrell-like in its simplicity, and similarly breathtaking, with the added benefit that you're meant to linger in its presence in the warm onsen waters. Pro tip – take advantage of the onsen's late hours for a peaceful end to a bonkers night out.
In a city like no other, Hoshinoya Tokyo's hospitality, design and atmosphere is beyond compare. You won't find a more calming destination to retire to, but you will find it exceptionally stressful to leave.