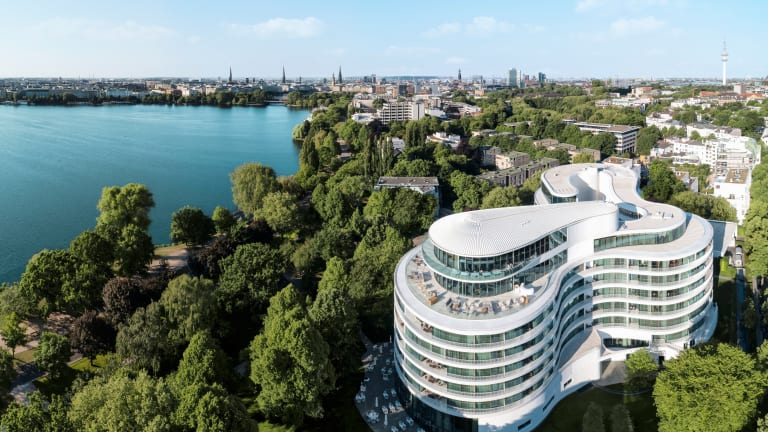 Review: It Doesn't Get More Opulent than Hamburg's Fontenay Hotel
Delicately placed in the middle of a city that truly values its citizenry's quality of life, The Fontenay is like a breath of fresh air in Hawaii – it couldn't get any more deep-sigh-of-relief-inducing if it tried. Thus so due to The Fontenay's visual design consistency and emphatic insistence on environmental synergy.
Opened in March 2018 on the site of Hamburg's former Intercontinental Hotel, The Fontenay is perched on one of Hamburg's mightiest natural assets, Alster Lake. The 7.5-km perimeter body of water is not only prime real estate for early-rising runners, it's also god's gift to the world of casual watersports fans. And it's a treat for the senses – all the surrounding buildings are white by a municipal decree and no loud engines are allowed on the surface, making the lake a dream backdrop for both sleeping in or waking up early. The hotel's all-encompassing vision of flora, with a verdant shell of tall trees swaddling the property in oxygenating tranquility, feels like an extension of the lakeside.
This responsive approach to the elements doesn't stop at The Fontenay's physical surroundings. The Hamburg-native architect didn't forget the hotel's relationship with flora, agua and natural light at any point in the design & construction process. It's obvious upon entry; a gem of an open-air garden sits just behind the glass-walled concierge area and there's rarely a corridor or room lacking a sightline to the outside world. The atrium's striking light sculpture resembles a blossoming tree and all rooms feature a balcony along The Fontenay's ebbing façade. The amorphous exterior of the hotel and its sculpted roofscape evolved from three intertwining circles. Gilded in beige-gold accents and kissed by aquatically concentric design flourishes throughout, The Fontenay is a far cry from sterilized, boxy chain hotels.
Despite a relatively large footprint with 130 rooms, this is a property that refuses to muddy its identity. Owned by (surprise) a Hamburg native on a mission to imbue his passion project with as many Hamburg-based artisans and producers as possible, you'll find evidence of this in the exclusive brews in the minibar fridge and the custom lighting fixtures, naturally courtesy of locals.
The cherry on the top (floor) is the rooftop pool and bar. Actually, there's an overlooking Michelin-starred restaurant (coined Lakeside), but the rooftop pool's infinity edge that seemingly melts into the lake puts the hotel into must-stay territory.
It's a shame that The Fontenay's only sister hotel is Mallorca's Castell Son Claret – we'd like to see them apply their 'five stars is not enough' mentality to a hotel in every world-class destination.