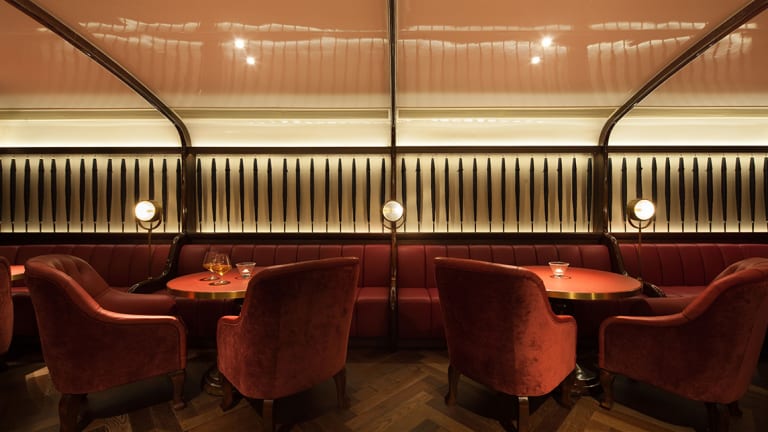 Inside Hong Kong's Sexiest Speakeasy
Secret agents are members here.
To the casual eye, this unrivaled, bespoke silver-handled umbrella boutique would be more than adequate for any window shopping demands.
But to the trained and private members' club eye, the narrow aisles lead to a reinvented and tasteful home away from home. Welcome to Foxglove – the preeminent speakeasy paying homage to the English gentleman.
As a member, you'll know which umbrella handle to touch allowing entryway to the coolest confidential club in town. Once inside, you'll be greeted by handsome interiors drawing inspiration from first-class train cabins and vintage cars. The fellows over at NC Design & Architecture championed a first-rate design effort.
"The space is a fantasy world inspired by the globe-trotting adventures of an English gentleman and is named after his love's favourite (but potentially deadly) flower." – NCDA team.
"The unapologetically cinematic interiors draw on a moody palette of darker finishes, shadows, form and rich materials to give the space an aptly masculine allure." – NCDA team.
When you're seeking even more privacy, find your way to a VIP room – reminiscent of a vintage top-dollar train cabin. You'll be surrounded by subdued blood-red interiors, creamy furniture, and classic-car-inspired headlamps.
"To enter the [another] VIP room, guests place their hand on a traditional floral painting at the end of one corridor until it glows, signalling the bartender to open the door." – NCDA team.
As members exit feeling exclusively gratified, they surely don't miss the chance to freshen up in these washrooms which loan themselves right off a retired ship. As non-members get a glimpse inside, they leave provoked, aroused, and driven to be presented a Foxglove invitation.