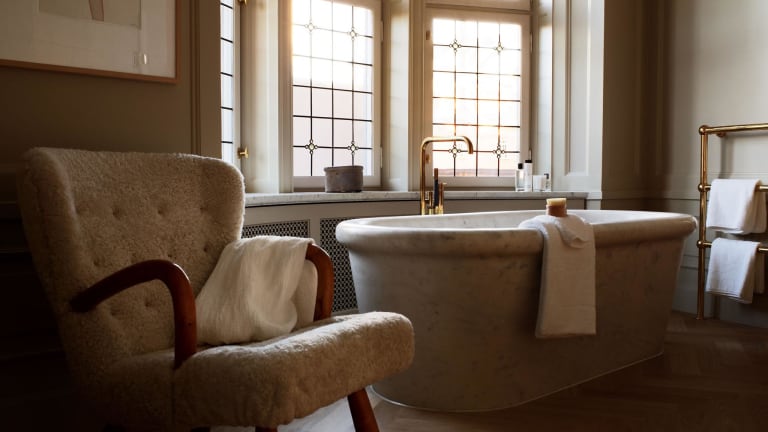 This Swedish Hotel Needs To Be On Your Travel Radar
You won't want to leave Stockholm's Ett Hem.
Under dreary skies and set to the tune of nearby harbor seagulls, there's a stately townhouse hidden among the foreign embassies and winding streets of Stockholm's Östermalm neighborhood. Its weathered brick façade sports enough personality, but it's only once you duck under the heavy wooden garden door, through the courtyard and step into Ett Hem's lobby area that you get a sense of what makes it one of the best hotels in the world.
Ett Hem is Swedish for 'at home' and if you've even glanced at pics of the place you'll immediately get it. Every home is only the sum of its parts and each of Ett Hem's living rooms, lounging rooms, and 12 guest rooms are supremely balanced between modernity and warmth. The couches, chairs and tables are contemporary but not imposing- it feels like a rare success where form and function are treated as equals and not one following the other. The lighting is consistently abundant to ensure that the dozens of plants are happy and the books well-loved (a Monocle guide or magazine is never out of arm's reach).
All of the rooms exude sophistication devoid of elitism, much like the Ett Hem team. You'll likely immediately be greeted by name by an exceedingly civil Swede as you walk up the courtyard stairs for the first time and, throughout your entire stay, every staff member is all smiles and eager to go an extra mile out of his or her way for you. They want to hear about your run along the river and recommend a new route for tomorrow. They want to suggest the ideal newsstand based on your favorite magazines. And, of course, you can't fake their level of authenticity when they want to hear about your stay at Ett Hem and make sure every detail is in order.
As equally memorable as your hosts, Ett Hem pays special attention to one detail that many hotels seem to forget. In a country not particularly known for its culinary culture, the freshness of the food at Ett Hem will leave you questioning long-held beliefs about Italian and French gastro superiority. Passionfruit, lingonberry and cloudberry flavors will put your taste buds in a state of citric shock and one guest even had to ask the chef what kind of food he believed he was tasting for the first time (it was watermelon). There's seemingly no end to the food, which is prepared, served and consumed in a kitchen divided by a long communal wood slab of a table that encourages conversation with guests and staff alike.
Stockholm's warmth is owed to its considered design, top-notch food and abundance of cheerful (and beautiful) people. Mention of its name around the city invites immediate recognition and approval as Ett Hem has personably nailed all three of these elements. A departing guest mentioned that she spent the weekend at the hotel with her fiancé after a surprise proposal. There's probably few other life events or celebrations of such significance deserving of an experience like Ett Hem.