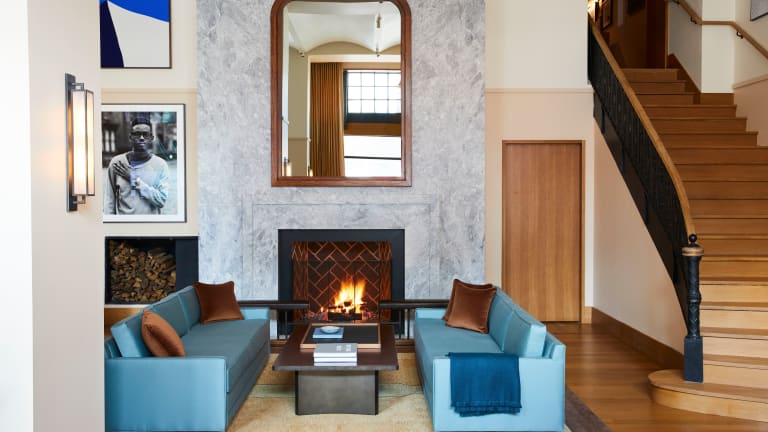 Review: You Can't Go Wrong with Detroit's Perfect Shinola Hotel
Michigan's first city's modern-day renaissance owes much to its ubiquitous 'Made in Detroit' slogan. Dozens of local brands have debuted in the last several years, but few are as well-known and regarded as Shinola. With a relatively specialized output, it came as no small surprise to hear that the timepiece and leather goods peddler was trying its hand at hospitality in the form of the Shinola Hotel. But turns out they were sitting pretty on a pair of aces all along.
Developed in partnership with Detroit-based real estate firm Bedrock and opened in January 2019, the Shinola Hotel is, simply, overwhelmingly cool. Within seconds of walking into the lobby you'll find your pleasant surprise replaced by an urge to interrogate the concierge as to why they didn't try this sooner.
The 129-key hotel never feels so. A tranquility permeates both the groundfloor's intimate, candle-lit Evening Bar as well as the high-ceilinged, natural-light-soaked Living Room. Perhaps it's helped by the labyrinthine layout, giving you a sense of discovery around every corner.
There's, naturally, a Shinola store down one hallway, a vibey cocktail bar around another and a quick turn on a dime outside leads to an alleyway hiding NoHo Hospitality's Andrew Carmellini's newest casual venture, Penny Red's. The entire menu is a can't-miss affair but whatever you do, don't sleep on the biscuits, even if you're the type to feel dozy after such an indulgence.
But should you indeed need to doze, don't sweat it because the room reveal is actually the Shinola's raison d'etre. Opening a hotel door for the first time is one of the last adult moments of childlike wonder at the unknown, and it's Gachot Studios-designed rooms like the Shinola's that affirm that. Every tactile element has a satisfying density – room keys, the brushed bathroom hardware and the room doors that might as well be made of the heaviest unobtanium known to man. That's strictly a good thing, as each Shinola room is an impenetrable fortress of solitude and peace as a result.
And with a bed to the power of 10 and the softest throw blanket you've dared not dream of, that peace & solitude are pretty hard to leave. And then there's the in-room speakers… too often hotels bungle the in-room AV with outdated iHome speakers or trash wireless connections. Might seem like an afterthought, but hey, what's a vibe without the right bop? Luckily this is a spot that takes its vibes seriously, evident in the gorgeous Shinola Bluetooth bookshelf speakers that not only sound great, they work just as reliably as a Shinola watch.
For a company that cut its teeth slinging products of eternal durability, it's only appropriate that staff makes an everlasting impression. It's like hotel operator crew Mac&Lo recruited an entire coterie of smiling, witty and personable folks who also just happened to be experts in the hospitality sector. From check-in to check-out you'll find yourself smiling back at everyone in the hotel.
Understated yet stately, aspirational yet accessible, the Shinola is a knockout of a stay. And the cherry on top is the price – rooms clock in at $255 per night most days, which is bonafide highway robbery for what you're getting. Keep that in mind next time you're thinking about visiting friends in, say, New York or maybe Chicago… there's much, much more to Detroit than the Shinola, but it's a damn good reason to plan a visit somewhere new.