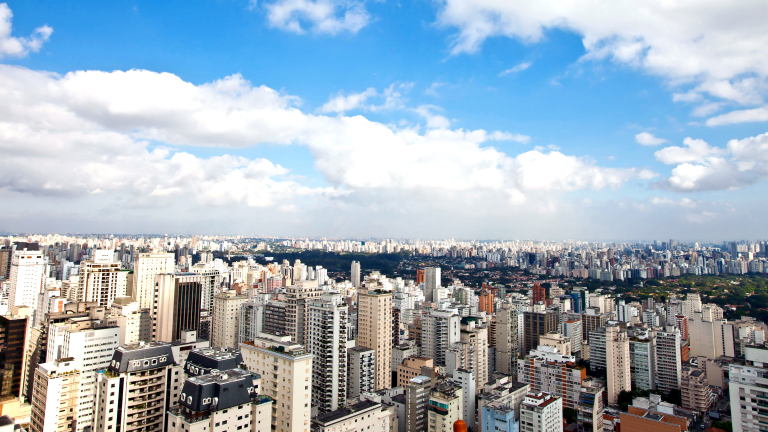 14 Reasons to Visit the Megalopolis That is Sao Paulo
Brazil's best-known city might be Rio, but ignoring its biggest city would be a cultural crime of high order. The 12-million-strong São Paulo has surged in tourism in the last few years, and no longer just for business. With 14 Michelin-starred restaurants, an immediately apparent absence of English fluency and its New York pace reigned in by a LA vibe, it's a city rife with contrasts and adventure.
However, it's a far flight (9.5 hours direct from NYC, for example) from anywhere that ISN'T in South America. Luckily LATAM is making that long journey more convenient and exceedingly more comfortable. They've unveiled 12 new direct routes in the last 12 months, and its genuinely one of the most comfortable cabins you'll fly on. The lay-flat seats in business class are exceptional for a cross-hemisphere redeye and you won't find a more top-notch nightcap than the Argentine port.
Once you've landed, fresh for the day, you'll be greeted by a semi-unwieldy city that's drowning in three things: cultural activity, spots and verdant vegetation. Skip the tourist traps, check out our favorites of all three below and get yourself booked ASAP – the Brazilian summer is just around the corner.
Renaissance Hotel: Any business traveler will want to be where the contracts are being inked; Paulista Avenue-adjacent Renaissance Hotel has every amenity you'll need. Bonus points for the panoramic city views in the business lounge.
Isso e Café: A perfectly pleasant start to your morning at this semi-open-air spot.
Braz Elettrica: There's a small handful of these actually-legit pizza spots around the city, with a crowd hip enough to justify further lingering.
Casa de Vidro: An absolute must for residential architecture fans; book a visit in advance and combine with lunch at Palacio Tangara's Jean George restaurant for a full day of tranquility.
MASP: The Sao Paulo art museum where the architecture rivals the art inside.
Sabia: Down a chopp (that's local lexicon for ice cold beer) or two at this unassuming spot that tries, but just the right amount.
Mocoto: Don't let the far-flung digs and name, which is Portuguese for "calf foot gel," deter you-this Michelin-starred menu will likely be your favorite indulgence in all of Sao Paulo.
Hotel Unique: Off-kilter funk perfection with a rooftop pool that feels transported directly from Palm Springs.
Ibirapuera Park: The ultra-communal public park of your running dreams.
Instituto Tomie Ohtake: One of the most distinct obelisks in a jam-packed city skyline. The interior can be overwhelming, but at the very least elevate yourself to the balcony level and drink in that view.
Palacio Tangara: A hotel more like a jungle oasis of peaceful isolation in São Paulo's vehicular chaos. Don't miss the Michelin-starred Tangara Jean-Georges restaurant for killer citrus, brothy goodness.
Edificio Copan: This is Oscar Niemeyer's, whose often-surreal work you'll see throughout Brazil, arguably most famous building in São Paulo. A stroll around the perimeter is enough to dizzy you for the day.
Casa do Porco: Even though this top-tier spot is known for its experiential sit-down marathons, the to-go window serves up a hell of a pork sandwich.
Hot Pork & Sorveteria do Centro: Even before ordering a boozy gelato, you'll know this is the coolest ice cream shop you'll ever visit. Enough said.