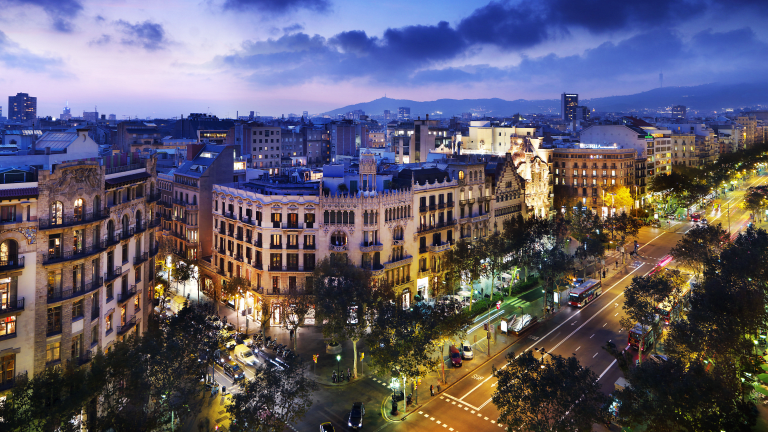 The 10 Coolest Hotels and Restaurants in Barcelona
Take your pleasure (and travel) seriously with help from Essentialist, a membership program that provides bespoke travel planning services for those who like to see the world in the most luxurious ways possible.
Each member is assigned a professional travel designer who serves as the main point of contact before and during any trips they're interested in taking. That same designer draws on a knowledge base of journalists and local tastemakers to curate a getaway gameplan that fits your mood and personality, from hidden hotel gems to the art galleries you'd love most. Not only that but they have relationships will all the right people, opening doors that would normally stay closed.
To put their taste to the test, we sat down with Joan Roca, co-founder of Essentialist, to ask him about his favorite hotels and places for eating and drinking in Barcelona, which include everything from basic but undeniably delicious spots to restaurants with a theatrical edge and everything in between. So if you're thinking about planning a getaway to BCN, listen up. And if you really want to do it right, listen up—and have Roca's team handle all the details.
Where to Stay:
"Sleek and sofisticado, this small hotel is set within a converted mansion and modernist annex on the lower slopes of Tibidabo might be a little out of the way. But that's the whole point: the ABaC feels at several removes from the city center's hotel hurly-burly. I love this for a long weekend with my wife when we can be leisurely with no agenda."
"Few Barcelona hotels can match the Mandarin's judicious combination of comfort, chic, and exclusivity. Factor in the Michelin-starred restaurants, the world-class spa, and the superb mis-en-scène (a former bank HQ with art-deco stylings in a prime spot on the Passeig de Gràcia), and the MO looks nearly irresistible."
"The Cotton House is my go-to for a business trip—its central location is one bonus but the hotel has tapped into a perfect combination between sophistication and laid back style. The first-floor library always impresses if I need to meet a client."
"Always impeccably stylish with friendly and capable service, the Soho House in BCN has a great location, at the tip of the city, with views overlooking the sea. The rooftop pool is an ideal spot for either a quick swim before meetings or to lounge the afternoon away with friends."
"For clients who want a romantic getaway, we often recommend The Wittmore, an adults-only 22-room hotel with sumptuous interiors, hidden on a tiny side street in the Barrio Gotico. Their inner garden transforms into a secret jazz clubs on certain nights—talk about ambiance."
Where to Eat and Drink:
"Disfrutar (it means 'enjoy'), the second venture of three ex-Ferran Adriá/El Bulli cohorts, combines Bulli-esque pyrotechnics with a keen sense of Catalan terroir and is now by common consent the best restaurant in Barcelona, bar none."
"You'd never suspect it was anything other than a little food-bar, albeit one that serves some of the best pastrami this side of Manhattan. Behind an industrial fridge door, however, lurks the coolest clandestine coctelería in town, with striking interior design and BCN's star barman, Giacomo Gianotti."
"This is Spain's cocktail cathedral, a hushed and luxurious environment in which to sip a perfect Martini, a Manhattan, or a Moscow Mule. Javier de las Muelas' Speakeasy restaurant, entered through a 'secret' entrance at the back of the bar, is a classy place to follow up on your apéritif."
"Surprisingly perhaps, but for awhile Barcelona had been missing a good place for a big rice-and-fish lunch down by the seaside; La Barraca's first-floor dining room looks out over Barceloneta beach; its menu majors in well-executed versions of Spanish rice dishes like paella valenciana, arroz a banda, and arrós negre."
"Whisper it: Sants is the new frontier among Barcelona barrios. Bourgeois Catalan cuisine meets Asia and Lat Am in this superb gastro bar: think pig's-trotter Carpaccio; truffled egg and potato; char-grilled foie with roast pumpkin. Sants' first leap into the restaurant big league is far from mundane.: