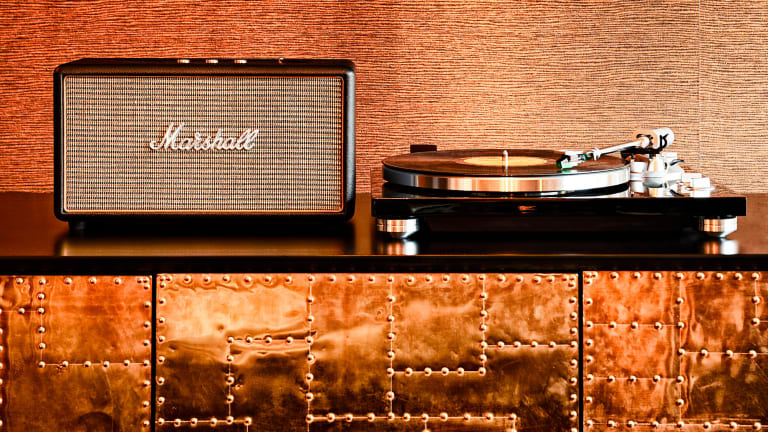 The 10 Coolest Hotels For Vinyl Addicts
Where to get your spin on.
Vinyl records exploded back into fashion long before Mick Jagger and Martin Scorsese's hit TV series. Now the trend has spread to cool hotels which are providing vinyl experiences to guests in a variety of ways. Here are the 10 coolest places to check into for checking out some solid grooves:
This just-launched remake of the Tribeca Grand features curated music by Alix Brown while each room has a Tivoli sound system complete with vinyl records he selected.
The penthouse features a collectible speaker cabinet housing a rare Technics 1200 turntable that was used at Studio 54 along with a collection of Lower East Side-related records from punk to pop.
A wood-grain turntable rests right on the check-in counter at this music-themed Modernist hotel, and front desk personnel help guests spin albums from a collection of Boston-related music stocked by a special curator.
Each of the 16 of suites in the historic DTLA building comes equipped with its own Ace x Rega RP1 turntable and a selection of vinyl records.
In the hotel's Rathskeller Suite, which pays homage Boston's famed underground music venue known as "The Rat," guests can play vinyl records of Rat artists like The Police, R.E.M. and Talking Heads.
Guests staying in the loft apartments atop Soho House Berlin's Bauhaus building get to enjoy libraries of over 100 vinyl records curated by The Vinyl Factory.
Each of the boutique rock & roll-themed hotel's guestrooms and suites feature a record player with an eclectic vinyl collection curated by Hollywood's iconic Capitol Records.
The Goodland features a retro Crosley record player in every room as well as a Record Concierge who helps guests choose from a library of vinyl for in-room listening.
Opening May 23 in the town made famous by a certain Mr. Springsteen, the hotel's lobby features a music library where guests can flip through stacks of vinyl to play while chilling with a cocktail.
Guests can choose from a listing of the contents of two giant shelves of Vinyl LPs in the hotel's living room which cocktail waitresses will cue up on a classic hi-fi system in the adjacent bar.