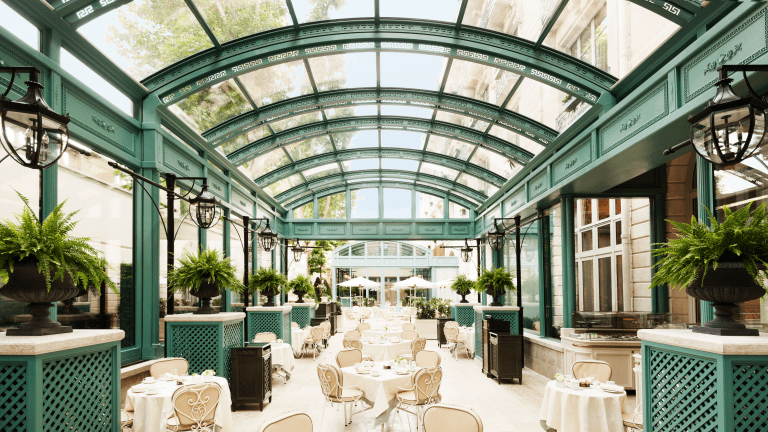 The 10 Coolest Hotels and Restaurants in Paris
If you're planning to be in Paris soon, let our man-in-the-field Joan Roca point you in the right direction. As the co-founder of luxury travel concierge service Essentialist, he knows a thing or two about sweeping through big cities the right way, so we asked him to dish out an insider's guide to the best hotels and restaurants in Paris. He'll take it from here.
Where to Stay:
"Montmartre is one of Paris's most charming—thus most visited—neighborhoods. Filmmaker Morgane Rousseau's tranquil five-suite boutique hotel is one of the few to reflect its character, with private gardens and large, individually decorated suites. Quirky and romantic, it's right in the middle of it all and still a proper getaway."
"First, it was a public bathhouse, then one of the most decadent nightclubs of 1980s and 1990s Paris. The hedonism hasn't gone—the legendarily tough doorwoman, Marie-Line, is still at her perch, at the downstairs club. It's just grown-up, with rich, visually arresting interior design; common areas designed by RDAI are unified by indulgent color and luxurious materials."
"Luxurious but informal, with just 37 rooms and suites, Hotel Le Roch is the first foray into hospitality for interior designer Sarah Lavoine. Her signature deep jewel tones and soft fabrics accentuate an aesthetic that's just playful enough while staying resolutely grown-up. The street is quiet, but the hotel is within easy walking distance of the Louvre, the Palais Royal, the Tuileries, and Opéra."
"The iconic palace's three-year-long renovation is smart and subtle, keeping everything we loved—the Belle Epoque splendor, 80 percent of the original furnishings—while adding natural light, a beefed-up shopping gallery, and much-expanded garden spaces. The yesterday-meets-today factor is complete with the addition of a craft cocktail bar serving bistro food across the hall from the iconic, unchanged Hemingway Bar."
Philippe Starck is billed as creator-designer here, his aim to emphasize creativity and rebellion in a five-star hotel—not normally where you'd find such things. In-room TVs are hidden; the acoustic guitars are easier to find. The hotel's impressive contemporary art collection extends to full-on engagement with galleries and a dedicated art concierge.
Where to Eat and Drink:
"It was already madness that the Alajmo brothers, of Padua's three-star Le Calandre and Venice's Quadri San Marco compound, decided to turn a historic landmark printer into a restaurant. Crazier still here in Paris, where free-spending touristes are not usually looking for Italian. But the result is clubby, posh, and serves some of the best food in town. The wine list is peppered with gems like a Roagna natural Barbaresco and orange wines from Josko Gravner."
"Cravan looks like cozy old bistro under the curving lintels of a graceful art nouveau building in the 16th, but behind the bar, Franck Audoux, part of the team at Chateaubriand that started the bistronomy movement, has redesigned cocktails with citrus and bitter tones, and serves a bar-food menu of perfectly executed timeless favorites like egg-salad sandwiches, Caesar salad, and steak and eggs."
"A friendly, modern bistro close to Père Lachaise, this local favorite recently reopened with a larger kitchen to please its many fans. Fresh salads, fish and bold cuts of meat with vibrant flavors are elevated yet accessible and satisfying. A focus on natural wines from small French producers can also be sourced from their adjacent wine bar and shop, which features a few tables where diners can thankfully wait for their table while sipping a glass."
"Paris can take a while to catch up with the rest of the world, but when it does, it does so well. Take craft beer, which this streamlined draft pub excels quite seriously at. The emphasis is on artisanal French suds, but impeccable kegs from the Pacific Northwest—rarity of rarities here—are also on offer."
"Edward Delling Williams doesn't change the formula he helped establish at Au Passage: simple small plates with a focus on stellar ingredients and large cuts of meat to share. Here, that even includes a proper Sunday roast. But this restaurant is an upgrade in every other way: bigger, brighter, more polished, with a much deeper wine list, and situated on a landmarked lane covered in cheerful graffiti art."