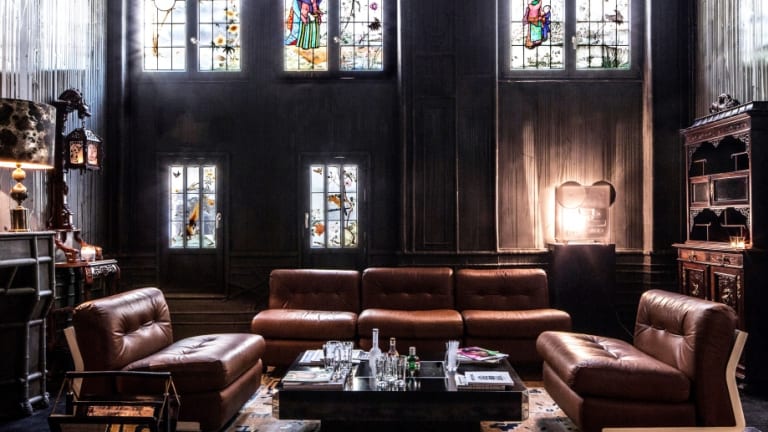 The Sexiest Hotel Bars Around the World
First call from Singapore to New Orleans.
If you open a new hotel these days and your bar isn't drop-dead gorgeous, you're just not doing it right. At the coolest new hotels popping up around the globe the bar takes on a life of its own, providing both a social nucleus for guests and a way for visitors to enjoy your amazing new property as well. Here are our picks for the 10 newly opened spaces you need to start a tab at now.
Philippe Starck has been designing hotels for decades yet still manages to do something fresh every time. Pure genius.
London-based Soho House now has 15 clubs around the world, and all of them are cool. It's a really incredible feat.
The hotel itself isn't brand new but the Bar Brasserie OCCO is and you'll want to get there ASAP.
The Ace's owners could teach a seminar on hotel bars, and their latest in New Orleans is a true masterpiece.
Texas is getting cooler by the minute in no small part due to this stunning San Antonio newcomer.
It doesn't hurt to have your hotel in a 19th century Neoclassical landmark. Great architecture often makes for great bars.
Sometimes the bar is the best part of the hotel by far. Especially when it has million-dollar views of NYC.
First a nightclub, then a restaurant, then a hotel and now all three, Paris' legendary Les Bains is a super-stylish boite-meets-bolthole.
The boutique brand's other new members' club is set in 100 acres of English countryside, but you could be forgiven for staying indoors the whole time.
This opulent new addition to the Luxury Collection is comprised of seven 13th-century buildings, including a former monastery. Which makes the bar pretty close to heaven.