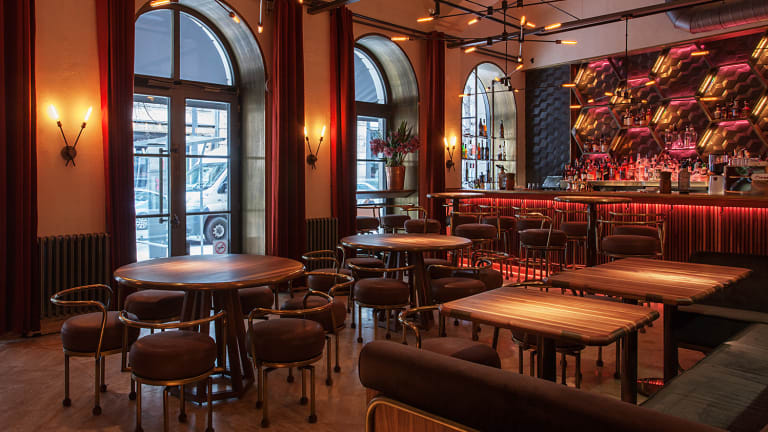 Inside Budapest's Best-Kept Secret
Experience Budapest's tourism revival in style.
Tucked away on a quiet street a brief stroll from Budapest's city center you'll find the modestly priced and subtle but sublime Hotel Rum. 38 rooms featuring smart design and uncommonly high ceilings, a courteous concierge team and a rooftop bar set to open this spring make Hotel Rum highly qualified for your consideration. It's one of Budapest's best HQs for exploring a city with plenty of diverse architecture to marvel at, dimly lit bars to spelunk in, and famed bathhouses to… well, bathe in.
Within striking distance of the city's coolest neighborhoods such as the seventh and ninth districts, there's little you can't reach within a 10-minute cab ride (Budapest's lack of Uber indicates it's a gem still somewhat undiscovered). Sightsee by day and by night you can eat and drink for the price of pocket change. The literary-themed Konyvbar promises a remarkable meal and is a stone's throw from the bohemian wine bar Doblo, equal parts smug and snug, and seamlessly integrated among buildings both preserved and dilapidated. Unique to Budapest are 'ruin pubs,' which often boast a dozen bars and twice as many rooms sprawled across loosely converted warehouse sites. Mismatched artifacts for decoration and disheveled, flea market vibes abound at the city's finest like the originator Szimpla Kert, the uncomfortably large Instant and the comfortably tame Café Bobek.
Stepping into the hotel you'll be flanked by the hotel's Asian-fusion restaurant, Urban Tiger, and a discreet lobby replete with tasty prawn chips and an attentive concierge. From a comprehensive description of the neighborhood upon arrival and a complimentary, health-conscious to-go breakfast upon checkout, the entire staff excels in small but memorable gestures always affirmed with eye contact and a smile. At one point, a concierge deferentially appeared outside to apologize for the slight delay in an expected cab's estimated arrival.
The design doesn't disregard the building's history, and while details are consistent, they aren't without their quirks. Rooms sport curious ergonomics and the hotel's spiral staircase, while gorgeously capped off with a skylight six stories above the lobby, is all function and strangely illuminated form. Endearing oddities like these can act as frequent reminders that you're in Eastern Europe. However, the hotel's custom bath products, smart tactile elements, and fastidiously clean rooms are more than reassuring that you're well looked after at Hotel Rum.