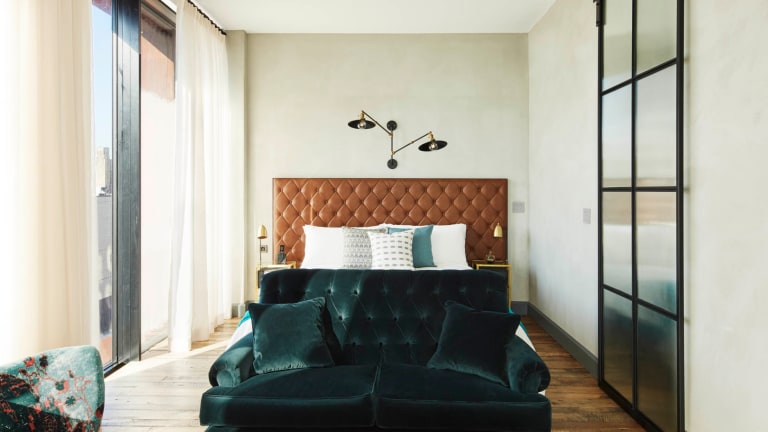 Stay Like a Local at The Williamsburg Hotel
North Brooklyn's newest addition.
Williamsburg locals will have no doubt noticed by now that the neighborhood's infamous gentrification is pulling Manhattan tourists across the river like a high-powered tractor beam. There's literal concrete evidence of this in the northern reaches of the hood, where you'll find a trio of hotels recently opened or under steel-beamed construction. The Williamsburg Hotel most recently opened its doors for a soft opening and the details do not disappoint.
Designed by Soho House-vet Michaelis Boyd, the first wave of rooms are guest-ready, along with an airy lobby bar. There's a restaurant set to open in the next several weeks, with a rooftop pool and a water tower bar waiting in the wings for summertime guests eager to soak up the sun.
Spread out over eight floors, the 150 rooms feature both industrial and vintage-inspired hardware, floor-to-ceiling windows, many even claim astro-turfed balconies with views of Manhattan and the East River aplenty.
Local purveyor Apotheke supplies the bath products, Waterworks furnishes the bathroom hardware and Brooklyn's best semi-healthy snacks are well-represented in the minibar. The beds are almost too comfy, often turning the first minutes of the day into a self-imposed guilt trip for hitting snooze once (or twice) more.
Once you do finally get out of the room, however, you'll likely encounter both locals and guests circulating through the lobby bar and eager for conversation. And when it gets time to exploring the neighborhood there's no shortage of options with McCarren Park and Frankel's matchless salmon hash bagels due north and the Williamsburg waterfront to the west. Southward and eastward, Black Flamingo's vegan quesadillas and low-slung dancefloor, Pokito's yucca fries and Aska's two Michelin stars and stupid-good cocktails (get the Freya) await you.
After eating and drinking your way through the neighborhood, ring the hotel before trekking back–there's a complimentary tuk tuk for guests too tuckered out to make it back in one piece.