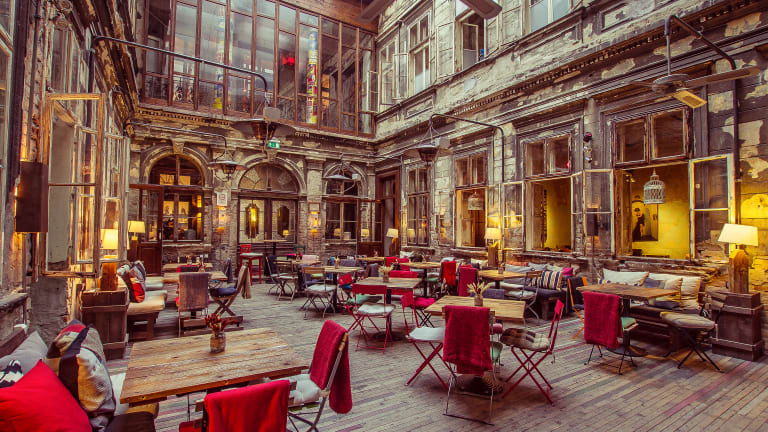 Budapest's Coolest Members-Only Social Club
The Brody House Group brings a ton to the table.
Equipped with a swathe of new hotels, highly regarding restaurants and prices that make it more accessible than ever, Budapest is mounting a quiet yet formidable cultural rebirth, aided in part by the bohemian efforts of the Brody House Group. With a members-only hospitality concept not unlike Soho House, the Brody crew revamps derelict spaces around the city and positions them as local breeding grounds for creativity and style.
The Brody empire boasts a top-class hotel, an art gallery, a 'Writer's Villa' perched in the hills high above the city and, the crown jewel, an after-dark nerve center comprising a music venue, karaoke den, open-air courtyard, recording studio, discotheque and several bars.
Naturally, the drinks, draughts and dinner fare at Brody Studios are as high in quality as one would expect. Paired with its exclusivity, it's no surprise that, in addition to Budapest's creative elite, Hollywood A-listers are frequent faces when in town for film shoots.
Like the city itself, Brody buildings synthesize old and new, as the team is consistent in bestowing a slick but not-too-shiny sheen on each property's faded veneer and patchwork stucco. There's no luster lost in the finished product, and there's often plenty of exposed brick and salvaged wood to go around.
With a new apartment property set to open this year, their monopoly on Budapest's cool kids club will only become stronger.