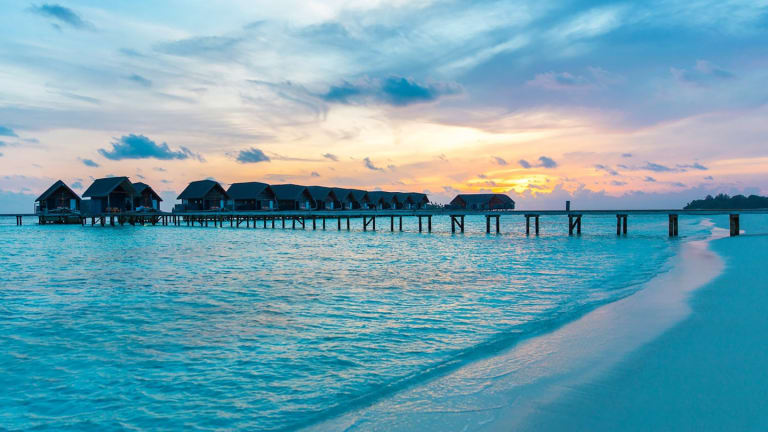 10 Idyllic Overwater Bungalows Around the World
The ultimate escape.
There's something about overwater bungalows perched above the azure ocean that appeals to the Peter Pan in all of us. The travel trend started in the South Pacific but has since spread to tropical locales around the globe, with some of the most recent additions popping up in the Caribbean. Here's where to really live it up:
The OG of overwater resorts, and one that should be on every gentleman's bucket list. It doesn't get more beautiful than this.
It's hard to picture a Tahiti vacation without a stay in one of these thatch-roofed beauties, modeled after traditional Polynesian "fares."
The Maldives is another picture postcard destination worth that hard-won Personal Time Off, and this resort is consistently named among the very best.
Polynesia is the land of tiki drinks, breathtaking sunsets and girls in grass skirts - and not much else. Bring sunglasses and try not to stare.
This all-inclusive, adults-only retreat is one of the newest entries to the overwater category, and won't take forever to get to. Viva Mehico.
On the other hand, some places are well worth 20+ hours of travel time, especially when you end up in the ultimate island paradise. Do not disturb.
Another newcomer that's also all-inclusive, meaning you don't have to watch your pennies, the design gurus went all out here. The only question is, infinity pool or ocean?
Deep in the Indian Ocean you'll find the remote Laamu Atoll and this amazing escape perched on top. The roof deck is the crowning touch.
Each bungalow is equipped with a private day bed, high-speed WiFi, outdoor shower, mini bar, and a staircase that leads directly to the ocean. What more you could possibly need?
"Robinson Crusoe with a luxurious twist" is how Select Resorts describes this gem; i.e. a children's book with cocktails. Bottoms up.