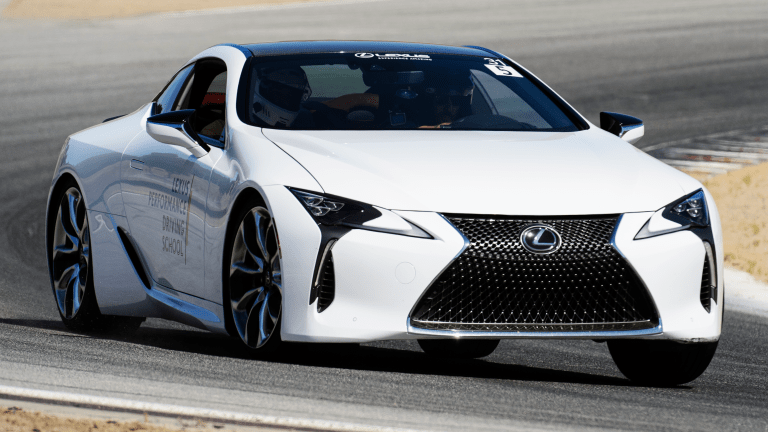 The Ultimate West Coast Bachelor Party
Not all bachelor parties are created equal. Some are content with boring Airbnbs in a conveniently located city while others (God forbid) embrace the Las Vegas slog with marching orders straight out of The Hangover.
Others do it better.
Case in point—a Lexus-fueled Monterey adventure we attended that showcased exactly why the central California playground is the ultimate bachelor party destination for gentlemen with a thing for speed and luxury. And though our trek comfortably led to the U.S. Open at Pebble Beach, you don't need a PGA event for this to deliver in every way possible.
In this playbook, we'll map out the entire itinerary for a bachelor party you and the crew will remember forever while dishing out tips and tricks for getting the most out of the long weekend:
Thursday
• Fly into San Francisco. Monterey has a small airport but it'll add unnecessary costs and require switching planes at least once. Bachelor parties can be expensive and your money is better spent elsewhere.
• Rent a few cars through Turo, the peer-to-peer carsharing company. It's significantly more affordable than going through the tired airport options, letting you go with luxury SUVs and sedans for the same price Hertz charges for a Kia Soul.
• Grab lunch at Fish Hook Company, a mellow neighborhood fish market and seafood shack serving some of the very best burritos and tacos in the Golden State. It's located between the airport and the hotel.
• From lunch, make moves towards Cavallo Point, a beautifully designed U.S. Army Base turned luxury resort with picturesque views of the Golden Gate bridge. The resort features both contemporary and historic lodging while providing complimentary access to a fleet of Lexus whips for test drives and trips around the city.
• Enjoy the relaxed vibes as you wait for the whole crew to arrive before heading to dinner at Nihon Whisky Lounge. The hot spot features a staggering 450 different bottles of whiskey along with a tapas-style menu which includes classic sushi and sashimi plates.
• The city is wide open from here, so now is the time to cause any kind of trouble you see fit.
Friday
• Leave Cavallo Point and start heading south to Half Moon Bay Ocean Course, a gorgeous link style track featuring ocean views from nearly every hole. The course sits next to a renowned Ritz Carlton, so make sure to grab a drink at the hotel bar after you play 18.
• Head further south on coastal roads to Monterey and check into The Inn at Spanish Bay. Fronted by a Scottish-style links golf course of the same name, the idyllic retreat is overflowing with hospitality and luxury and complete with a large selection of view-heavy outdoor fireplaces for late night cigars and Scotch.
• If the team prefers renting a house instead of staying at a hotel, there are plenty of cool spots in the area. We like this coastal lodge with room for up to 16 guests.
• For dinner, roll over to the number one rated steakhouse in the area for over 40 years: Whaling Station. It's moderately priced given the pedigree and filled with old school vibes and a proper bachelor party atmosphere.
Saturday
• Kick the day off with the Lexus Performance Racing School at Laguna Seca, one of the country's most iconic circuits. The experience is designed to elevate your driving skills with personalized coaching while letting you rip it up in style courtesy the provided Lexus RC Fs and Lexus LCs on hand. Breakfast and lunch included.
• No matter how locked in your fitness is, you'll be properly exhausted after hours on the track. Take it easy and grab dinner at Sticks or let the concierge point you in a direction that fits the mood. And when the second wind hits, local spots like Crown & Anchor and Bull & Bear provide a good time.
Sunday
• You can't leave Monterey without playing more golf, so make sure to grab a morning tee time at one of the many golf options as soon as you lock down the bachelor party dates. The Sunday morning timing is particularly crucial as it allows your future brother-in-law with the 35 handicap and other members of the team who don't play golf regularly to jet out early without being stuck with additional expenses.
• Pebble Beach should be the first option. If that's unavailable, its sister course, Spanish Bay, is an incredible track with tons of coastal style. Poppy Hills is an excellent fallback option. Of course, if anyone in the group is connected enough, private courses in the area like Tehama provide exceptional golf experiences.
Final Tips
• Bachelor parties can be expensive and in a large group, there are inevitably one or two people who see it as a real strain financially. Be very clear about costs when planning the trip so nobody is bombarded with unexpected expenses.
• Whether it's the best man or the buddy who's overly passionate about credit card points, let a single person pay for everything when arriving at events and getting the check at dinners. He'll fire off Venmo requests after the weekend has wrapped.
• If you're dreaming of linking up with bachelorette parties with matching t-shirts or showering off contact body glitter every morning, this isn't the place for you.
• Monterey weather is hot and cold with particiarly chilly mornings and nights. Layers are everything.
• After returning to reality, go in on treating the groom to a signed Gray Malin fine art photograph from his new series focused on Monterey golf courses. It's perfect office decor and an heirlom-quality piece that will forever remind him of the weekend.