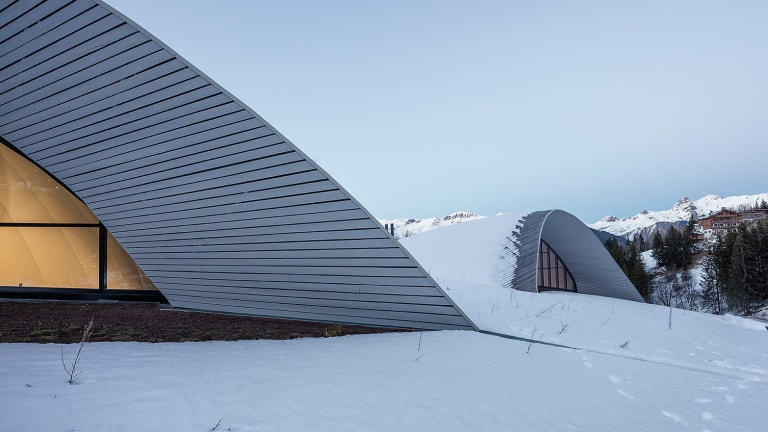 The World's Coolest Aquatic Centre Is In The Middle Of The French Alps
Dive in.
Courchevel, France – centrally nestled in the French Alps, this part of the country is home to of note ski resorts, alpine panoramas, and the grandest aquatic centre we've spotted. This aquatic centre, or Aquamotion, was a geographical undertaking – its architectural choices were focused on perfecting the integration into its surroundings. The award-winning lineup from Auer Weber, Munich demonstrated enough construction finesse, environment dexterity, and design know-how to create a waterpark soaking in style.
With an elevated roof supplemented by additional openings, the building interacts with its landscape on the regular. As a guest, you'll constantly be flooded with streaming natural light to brighten your view of the centre's neighboring, river Gravelles.
Being poolside in the French Alps has its options – this water chateau provides a waterslide, jumping basin, lagoon, paddling pool, exterior pool, and swimming pool as your puddle-of-choice.
If you truly want to French Alps and chill, be accommodated by their well-being and relaxation areas – dark cavernous saltwater pools, massage centres, saunas and Turkish baths, and cold exterior pools await.
Not enough adjectives sum up the level of provided comfort Aquamotion presents its guests. But we do know, this aqua-bliss would of not been possible without an ace performance from architectural poets, Auer Weber, Munich. Their forward planning was masterfully thought out which resulted in a tour-de-force structural makeup uniting superb design and awe-inspiring nature.