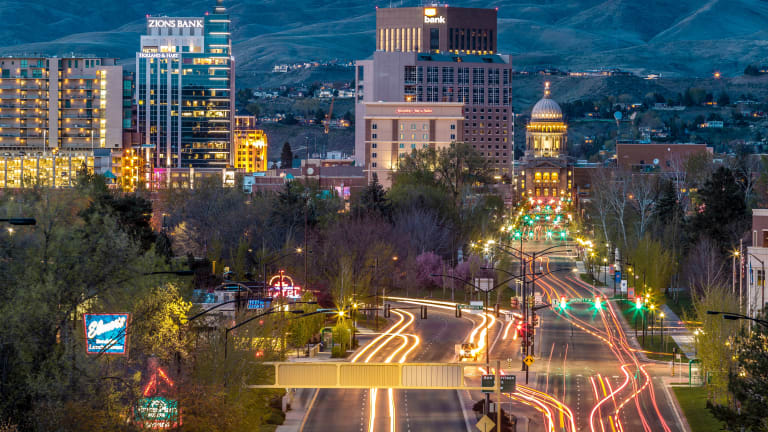 A Gentleman's Guide to Boise
With over 20 craft breweries, 40 wineries, 200 miles of trails of hiking and biking trails, a river running through town and the second largest ski area in the state, Boise Idaho is a perfect Pacific Northwest getaway. There's a buzzy design and culture vibe happening lately, and construction is underway for the new venue for the annual Treefort Music Fest. Here are some must-do's in town.
Daily happy hour specials for hotel guests, free use of bikes to get around town, and bath and shower lotions from William Roam are among the amenities at The Modern Hotel. Turn the TV to channel 39 for an in-house film festival: a rotating program of clever short international films from ten to thirty minutes each.
Even if you don't need a trim, Peace Valley Dry Goods is worth a pop-in for a hello with the friendly staff and to browse a selection from the likes of American Trench, Taylor Stitch and Red Wing boots.
Sturman's Wine & Cigars (just out of Boise city limits in Garden City) boasts an indoor wine bar and spacious tented outdoor space in back with lounge chairs and entertainment four nights per week. Browse the walk-in humidor for your favorite smoke.
The brick walls of this a downtown alley are an outdoor gallery of murals painted by locals with an overdose of creativity. The psychedelia you'll see here include a coyote with a stick of dynamite in its jaw, several species of mermaid and an homage to actor Aaron Paul of Breaking Bad fame, who grew up in Boise.
Boise has the largest Basque population outside of Spain, so it's a great opportunity to try some Basque food. Ansots serves up a variety of their house-cured chorizos, or try a pork sandwich known as a bocadillo.
A vintage shop that's remarkably uncluttered. Retro neckties in one area, aloha shirts in another. Owner Ward Hooper is a local artist and on some of the merch, you'll see his own art that he's printed on vintage clothing.
There's lawn games and a fire pit at this welcoming space where you can relax while sampling Payette's lagers, pale ales and seasonal brews.
Neurolux is a downtown venue with live music and is open every day of the year.
If you've never experienced custom-made shirts, here's your chance to treat yourself. Browse a selection of cotton, linen or wool shirting fabrics in stripes, solids, checks and prints. Then Travis will take your measurements and discuss choices and details like cuffs and collars. The goods get delivered to your home in about four weeks.
The District is the spot to mingle with locals or grab a coffee to go (brewed from Form & Function roasted beans) before setting off to explore the 'hood.
Keystone Station stocks t-shirts, board shorts, flannels and gear with a nod to the outdoors from brands including Rhythm and sunglasses from Boise-based Proof Eyewear.