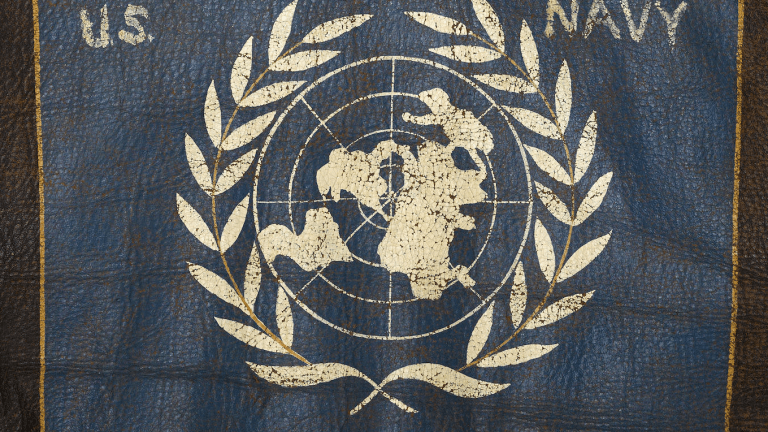 The Score: Badass Bomber Jackets From The '40s
This leather has seen some action.
You could invest few couple month's salary in one of the fey new fashion house bomber jackets fresh off the runway in Paris. Or you could man up and purchase the real deal – war-worn leather bombers that have seen serious action and have more character than any piece of clothing you'll ever own. Bonhams' Conflicts of the 20th Century sale in New York on October 21 features a number of bombers among significant artifacts from wars and skirmishes around the globe.
The key piece is a bomber – or a US Navy M-422A Flying Jacket to be specific – that belonged to one of the heroes of the Pacific Theater during World War II, Ensign Allan Rothenberg, recipient of the Silver Star, the Navy Cross, and the Distinguished Flying Cross. It features several battle patches and insignia not to mention a lifetime of perfect wear, and is one of the rarer models with a fur collar.
Other jackets on offer include an A-2 Flying Jacket worn by Lt. Carvell Keeny of the famous "Flying Wombats" bomb squadron in 1942; another owned by WWII veteran and ace Korean war gunner Staff Sgt. Clay E. Apple of the 98th Heavy Bombardment Group; one one worn by Capt. Al Harran of the 67th Tactical Reconnaissance Group during the Korean War, 1952–53; and another belonging to B-17 bomber Col. B.V. Halbert of the 422 Bomb Squadron, 1942–45.
Now you just have to decide – wear one and make up some gripping tale of how you came to acquire it from the original owner in the course of a long, whisky and hooker-fueled poker game, or display it in your apartment as a gentlemanly work of art.