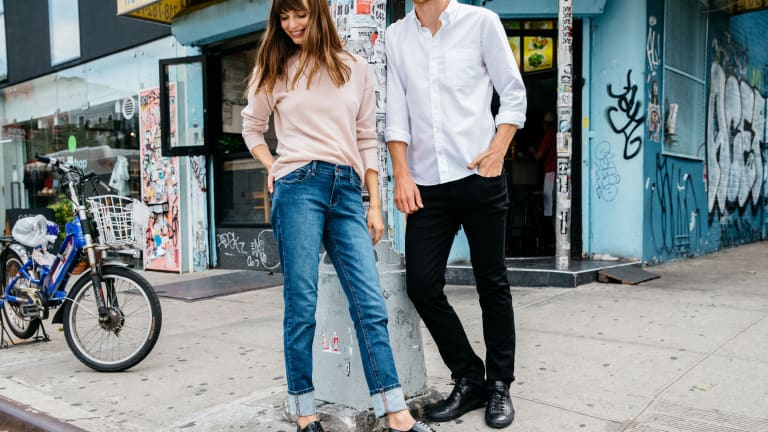 The Button-Down Shirt, Perfected Once and For All
We have English polo players to thank for the button-down shirt – the aristocratic, fastidious sportsmen didn't want their collars flapping in the wind when things got hot on the field. Since then the button-down has had all sorts of ungentlemanly things happen to it, from horror show fabrics to ridiculous fits ranging from baggy and oversized to insanely skinny.
Which makes this the ideal time for someone to come along and perfect it. Enter Alejandro Chahin of Mott & Bow. Chahin, the young scion of a denim manufacturing family in Honduras, started the company in order to make premium grade jeans at a reasonable price without all the designer markups and has since branched out into shirting.
He brings the same rigorous process to ensure the finished product is a thing of beauty. Mott & Bow's button-downs – a baker's dozen of them in various shades of blue with a white and pink option to keep things interesting – would have appealed to both Jay Gatsby and Steve McQueen.
Chahin sources the very finest fabrics from the best mills in the world, and for the button-downs that means a hefty order from Albiate 1830 of Milan, Italy, known for its denim and chambray and a holy grail for menswear enthusiasts.
Mott & Bow's Kent model BDs are cut slim but not too tight and the fabric is a lightweight two-ply 100% cotton with a classic oxford structure. The Wythe model meanwhile is a 60's two-ply yarn-dyed indigo denim with a unique look due to a process called "black weft" that gives it added depth.
Chahin controls the entire manufacturing process in-house which not only ensures the best quality but eliminates waste and the cost-padding typical of manufacturing and wholesale middlemen.
And with button-downs starting at $69, you're going to want to stock up.