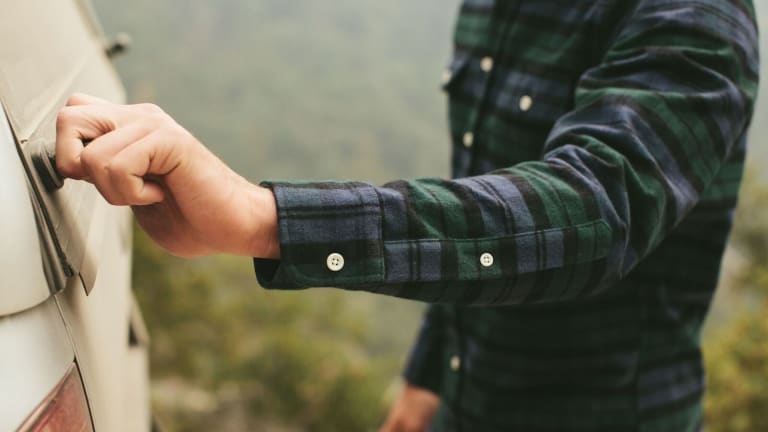 3 Reasons This Taylor Stitch Shirt Will Be Your Go-To This Fall
A staple in every autumn wardrobe.
There's at least one piece of clothing in your closet that you know you should kick to the curb. It's years old, your friends always comment on it, it doesn't necessarily look awful, but it's definitely seen better days. But nostalgia levels are critically high and it's too comfy to just toss.
But the purveyors of durable and ultra-wearable apparel, Taylor Stitch, have crafted a shirt that irons out all the negatives from the equation, no cheating or skimping on the details involved. And with summer's demise closing in, it's time to become one with the waterfalls and seek out the smell of fresh pine needles in the fall. In preparation for the autumnal equinox, you'll need, among other things, a shirt.
The Yosemite gets its namesake from the camping, hiking and climbing promised land right in the company's backyard. But if you're an outdoorsman of the Denali or Death Valley persuasions, or even just a regular old indoorsman, you'll still get a lot of mileage out of a shirt made this well. Here's why:
1.) From Here to Eternity
If you already own Taylor Stitch gear, we don't need to sell you on the lifespan. And like a years-old baseball glove, the Yosemite only picks up personality after several trips around the sartorial sun.
2.) Your Closet's Most Versatile Player
There's four color options, two old standbys and two funky newcomers, and it works tucked or untucked, at the office or on the mountain. It's versatile like a basic you could wear with anything, but sans the expendability of a single-season purchase.
3.) A Soft Touch
Sourced from a mill in Portugal that specializes exclusively in flannel, the Yosemite weighs in at nine ounces, comfortably dense and warm for a long-sleeve. And with Chamois fabric soft enough to sleep in, you'll want to closely guard this one from wives and girlfriends lest you'll never again see its like.
But don't sleep on it just yet, as the Yosemite is available for pre-sale from the Taylor Stitch workshop for only a few more days. Get a discount for committing pre-production and it'll be delivered to your door just in time for November's brisker breezes.