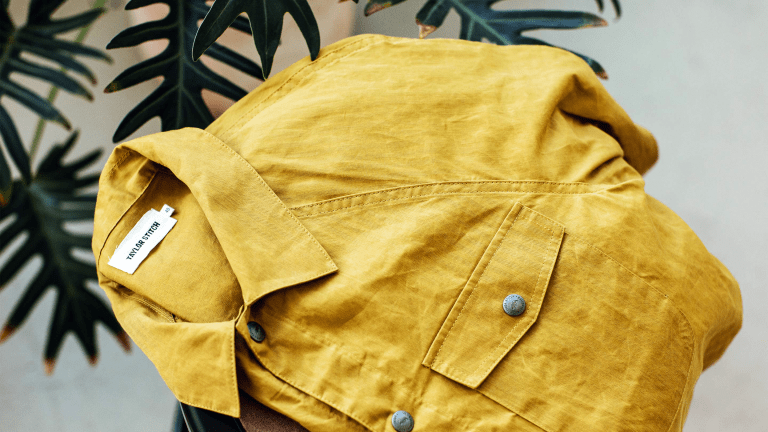 Taylor Stitch's New Waxed Organic Cotton Field Jacket Has Style for Miles
Sorry to say for those whose summer is still getting started, but it's not too early to start thinking about your fall wardrobe. Luckily the apparel artisans at Taylor Stitch are on the same page, sartorially speaking.
The S.F.-based brand's latest debut, available for pre-order now and set to drop come November, is a flawlessly constructed field jacket made of a bespoke 7-oz. organic cotton that's been given a dry wax weatherproofing treatment.
The honorable cloth, which has a subtle herringbone pattern, comes courtesy of Taylor Stitch's ongoing collaboration with Halley Stevensons, the famed UK firm which received its first patent for water-proofing textiles in 1910. It makes for an attractive jacket which is sturdy but not bulky, so you can "wear it as a shell on warmer days or layer up when it gets chilly."
As the brand notes, there's no shortage of outerwear options out there, "but for some reason, finding a dependable daily driver is anything but easy." The Lombardi Jacket fixes that "by some complex alchemy of good looks, rugged construction, and outright wearability"—i.e. all the elements we've come to expect of a garment bearing the Taylor Stitch label.
Hence the Lombardi Jacket's utilitarian design "coupled with some timeless visual appeal" ensures that it will serve faithfully, come rain or shine, for years to come." Best of all, it's available in both a classic army green as well as a vintage mustard yellow, both with just the right amount of fade washed in from the start.