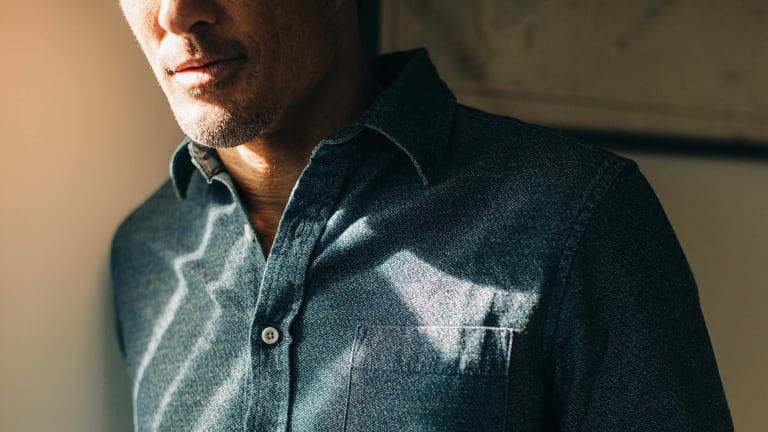 Why Washed Indigo Crepe is the Coolest New Shirting Fabric
If you pay any attention to matters of style, you're probably familiar with the garment-dyeing process, performed once the piece has been cut and sewn, that both softens and saturates colors and gives them a vintage look. You may not be as au courant with garment washing, however, which not only pre-shrinks and pre-weathers but enhances the texture of certain fabrics.
And fabrics and all ways of improving them are of course the A-game of the apparel artisans at Taylor Stitch. As is immediately apparent with their new California Shirt in Washed Indigo Crepe.
As the brand notes, "our reputation was built on shirting," and the California cut—tailored but not tight, with a soft collar—is already known for its "flawless construction, timeless good looks, and best-in-class" details.
For the latest iteration, the S.F.-based brand started with a lightweight and breathable 5.5-oz. 100% organic cotton in indigo blue, with a unique crepe texture, which was garment-washed to emphasize its subtle salt-and-pepper look.
The resulting beauty, a bit more sophisticated than chambray but in the same league aesthetically, is certainly unique and effortlessly capable of holding its own or anchoring a look under a cardigan or blazer.
To tuck in or leave untucked is the only decision left to make—and Taylor Stitch has even assisted with that thanks to a length that is perfectly suited to either.