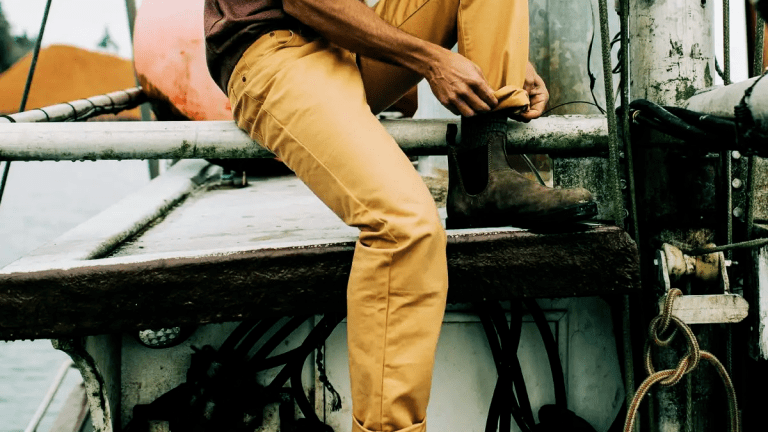 The New Wharf Pant Is Rugged, Resilient Perfection
Clothing is like a suit of armor. No matter the situation, it's your answer to feeling confident and comfortable. And the best pieces are the ones that get better with age, softer with every wash, and can stand up to anything you put it through.
Thus, why we're so high on the Wharf Pant, recently unveiled by Taylor Stitch in British Khaki Selvage and designed to outlive every other piece in your wardrobe.
The handsome, classic piece is built from marine grade selvage boat canvas with an extremely tight "boat shrunk" weave. The latter element is important, as it protects against fading and dramatically increases its natural water resistance. The selvage elements, meanwhile, usually reserved for high-end denim, doubles up the toughness.
The silhouette is also locked in, delivering a roomy top box that tapers down the leg for a flattering fit. Its medium-rise waistband is also just right, which is specially shaped to lay flat against your back, give you some always-appreciated breathing room, and deliver all-day comfort. A number of sleek details finish off the look, including a leather patch on the backside, custom-developed YKK buttons and rivets, and the brand's signature San Fransico map print pockets.
Place your order here.