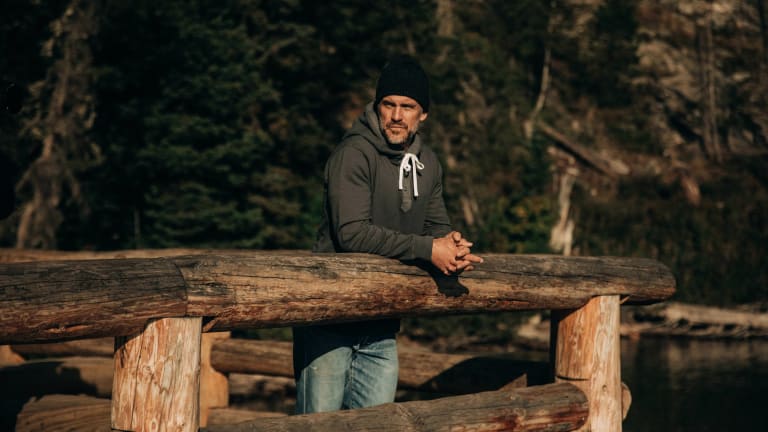 Taylor Stitch Puts a New Twist on a Best-Selling Hoodie
If the apocalypse hits tomorrow, pack a hoodie. There are probably other items that will matter, but there are three reasons you'll do well to wear your favorite hooded sweatshirt. First the level of comfort it brings just makes you feel safe. Second, its roots are in steeped in activewear history. Should you find yourself running or fighting for your life, a hoodie has your back. And finally, a hoodie in the right hands is a full climate control system. Cold? Synch the neck, flip the hood, and dig your hands into the pockets. Hot? The hood comes down, the neck opens up, and the sleeves are pushed up to the forearm.
You don't have to tell the guys at Taylor Stitch this though. They proved their hoodie expertise while perfecting the classic hooded sweatshirt with their Fillmore Hoodie. Now, they are taking things a bit further with a twist on the proven classic.
The fundamentals of the new Fillmore Snap Hoodie are the same as the original. There is the 100% organic cotton French terry fabric which is garment dyed and washed making it look and feel well worn. Also present is the heavyweight rib for the bottom, cuffs, side panel, hood, and pocket openings. Their Kangaroo pocket is still there; as is the three-piece hood construction that allows you to turn your head and have your hood turn too.
And while much remains the same, the construction of the neck on this new style makes for a totally different piece. For instance, the Fillmore Snap Hoodie features a three-button half snap placket with antique silver grommets. It's a little piece of visual interest that brings to mind another favorite, the henley shirt, and elevates the Fillmore Snap Hoodie to a class all its own.
Throw it over a shirt, under a jacket, or in your go-bag. Order today here.