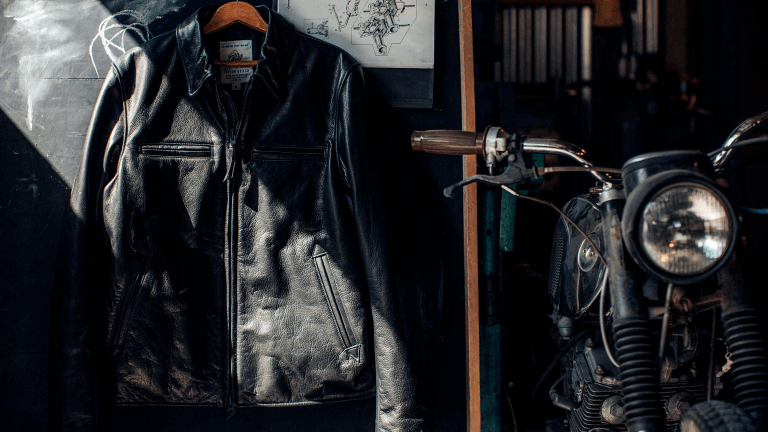 New American Classic: Taylor Stitch Launches the Perfect Moto Jacket
If a piece of apple pie could drink whiskey, it would probably do so wearing a motorcycle jacket. Back in the day of hardtails and teardrop gas tanks, when Harley-Davidson was the largest motorcycle manufacturer in the world, a jacket was devised to protect riders if they crashed, while allowing the wearer enough movement to comfortably ride. Almost one hundred years later, this enduring American classic has been re-imagined and co-opted thousands of times. So when the designers behind Taylor Stitch sat down at the proverbial drafting table, we would imagine there were days spent in quiet reverence to the challenge ahead before the pencil hit the paper.
How do you pay homage to a cornerstone of American cool, while providing functionality for the modern guy, with materials and craftsmanship that can stand the test of time? A good place to start: a partnership with Golden Bear. The San Francisco outerwear legend has been manufacturing since before the first motorcycle jacket was even stitched together.
From there, you choose the right materials: chrome-tanned, drum-dyed 3.5-oz. full-grain steerhide, Thinsulate insulation, YKK two-way antique brass zippers. By now, your mouth might be starting to water as a phantom whiff of leather travels through your nose into your spinal column. Keep going. You put all of this together with the benefit of Golden Bear's 100 years of know-how. The style's signature length, cut to look good standing or sitting, is here. As is Taylor Stitch's more modern tailored silhouette.
On a colder day, flip the hidden snap collar to expose zig-zag reinforcement stitching. The same stitching is carried through to the wind flap that sits behind the front zipper. Subtle details like this and the hidden zippers, inner chest pocket, and articulated shoulders finish this piece off with sophistication that punches above its price point. It's not the cheapest jacket you'll own, but it's the one you'll own the longest.
Pick one up right here in your choice of three different colorways. And thanks to the clever pre-sale period that T.S. offers, early backers receive a substantial discount.