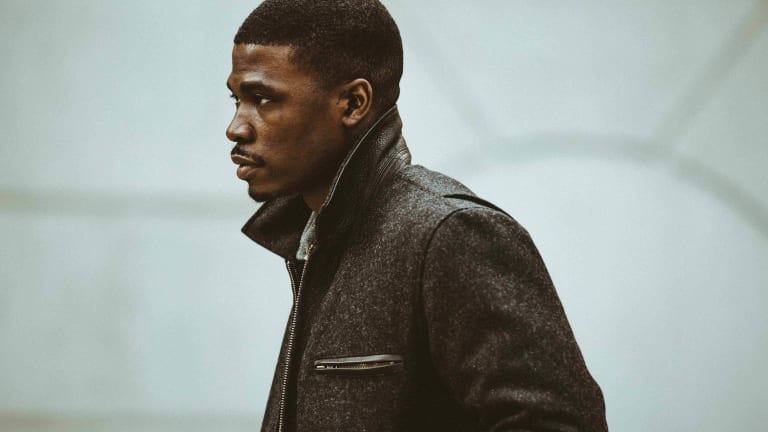 This Perfect Wool Bomber and Peacoat are Taylor Stitch's Most Limited Releases Ever
S.F.-based apparel experts Taylor Stitch just gave winter style a major boost with two new special edition jackets that are the brand's most limited releases of the year. A collaboration with iconic California outerwear company Golden Bear, established in 1922, and drawn from G.B.'s extensive archives, only 36 pieces each of the new wool Monterey Bomber and Mendocino Peacoat are being made, and they're gone, they're gone.
The Monterey Bomber in was inspired by the dockworker jackets found on fishing piers on the West Coast in the 1940s, the sort of jacket "Jack Kerouac or William S. Burroughs would have worn during their days as Merchant Marines." Constructed from hearty 17 oz. charcoal wool milled by the UK's famed Abraham Moon Mill and hand-sewn by the artisans at Golden Bear in San Fran, it's priced at $598.
The Mendocino Peacoat in deep navy blue began with a roll of vintage deadstock 20-oz. luxe Italian wool found in the corner of the Golden Bear factory floor. "Inspired by the fabric's perfection, we knew we had to make our very first peacoat," the T.S. crew notes. Their version features hand warmer pockets, cowhide leather accents, and custom Taylor Stitch-designed corozo anchor buttons, making it truly the perfect peacoat. It's priced at $798.
Both are expertly tailored for the ideal fit that's flattering but not too tight, and as we noted there are only 36 of each one available. Probably more like 26 by the time you read this, so don't wait too long to add one (or both) of these legacy pieces to your wardrobe. Your grandchildren will thank you....