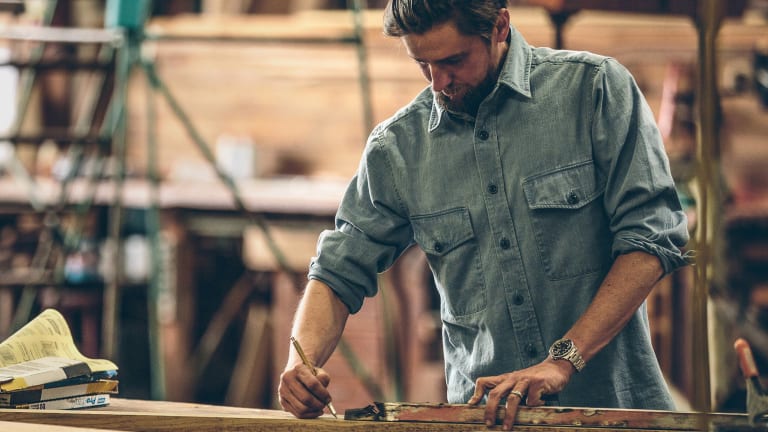 Taylor Stitch's Spring Maritime Collection Will Get Your Season Started in Style
Nautical niceties.
Taylor Stitch, the San Francisco-based clothier devoted to making expertly crafted, perfectly fitted essentials at affordable prices that you'll wear forever and then some, is getting the season started in style with its cool new Spring Maritime Collection.
The must-have menswear pieces take inspiration from San Francisco's strong affinity for sailing and the sea and are designed for warm days spent both on and off the boat, speaking to the timelessness of nautical pursuits.
There's more too it than just a bunch of pretty pictures. The Taylor Stitch crew spent time with the artisans at Spaulding Boatworks in Sausalito, where wooden vessels are made by hand.
A "cornerstone of marine heritage and maritime skills" founded in 1951, as well as home to the West Coast's oldest active sailing yacht, the Spaulding, proved both the perfect backdrop and testing ground for Taylor Stitch's ruggedly handsome goods.
Below are some of the collection's highlights, which is being pre-launched via crowdfunding. Get in on the ground floor and you'll save a ton:
Lightweight and weather resistant, made with fabric from the UK's oldest purveyor of waxed fabrics, this is a very versatile bomber variation for the high seas.
Another damned handsome wardrobe staple, crafted from Japanese cotton selvage indigo, it's half the weight of wool but will keep you warm and dry.
A fresh take on the classic sailor's stripes, made from extra fine merino wool with just a touch of stretch, and a tailored fit. Naturally odor-resistant to boot.
Herringbone linen is one of our favorite fabrics when the weather starts to warm up, as it packs just the right amount of heft. Custom milled of course.
The freedom of a crewneck and the looks of a button-down combine in this shirt to create the epitome of coastal casual flair. Cotten and linen blend.
Special edition recycled heavyweight cotton jersey with a custom Spaulding Boatworks print. And all proceeds go back to the boatworks.