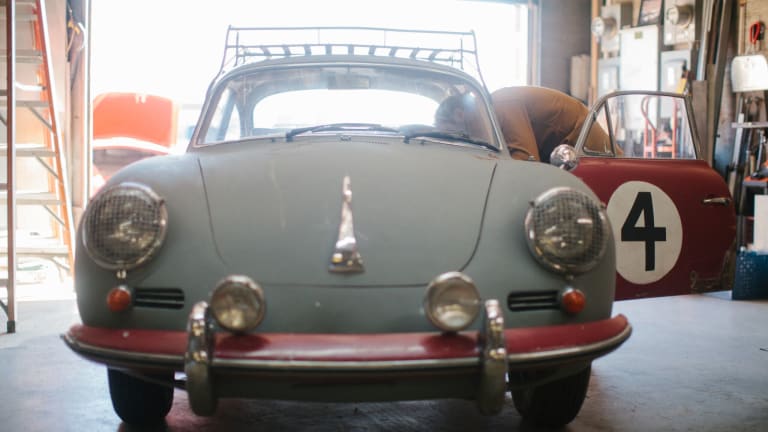 Taylor Stitch's Mechanic Shirt is Perfect for Vintage Porsche Enthusiasts
Sanded canvas classic.
Once in a while, we come across a garment so perfect in its purpose, simplicity, and excellence of design that our immediate impulse is to buy one in every color–and just throw the rest of our stuff out.
The latest lust-inducing example: the new Mechanic Shirt from Taylor Stitch, the San Francisco-based clothier devoted to making expertly crafted, perfectly fitted essentials at affordable prices that you'll wear forever and then some.
The Mechanic Shirt is a lightweight sanded canvas work shirt, milled in Japan and constructed in San Francisco, sewn with single needle lock-stitch seams and powder-coated aluminum buttons for a lifetime of wear.
"Beautiful but not precious" as the brand itself says, "it's designed to work" – especially on cool stuff. Once the Mechanic Shirt was ready for its photo shoot, the Taylor Stitch crew happened to find the ideal guy to try it out:
Nico Samaras is a United States Marine and the owner of the new Four till Four café/garage and shop in Scottsdale, Arizona, dedicated to the vintage motoring lifestyle. At the age of 27, in addition to his military service, Nico has owned a dozen vintage Porsches.
He got his start working on cars with his mechanic father, Sam, who'd been a vintage Volkswagen guru in Garden Grove, California since the late '60s. At 16, Nico poured his life savings into a beat-up Porsche 356 and has been "rebuilding, flipping, and driving the ever-living-shit" out of Stuttgart's finest ever since.
When Taylor Stitch visited Nico in Arizona with the Mechanic Shirt–which is priced at $98 and comes in five cool colors including British khaki, moss, and black–it was, of course, a perfect fit in every sense. Nico and the Taylor Stitch crew traded stories and views on design and living honestly and well.
"Don't let the polish be an excuse not to drive," is one of Nico's mottos that applies perfectly to Taylor Stitch's view that great clothes are made to be used and worn, not merely admired. "Indulge that urge, kick up some dirt, and drive," they say. And we couldn't agree more...