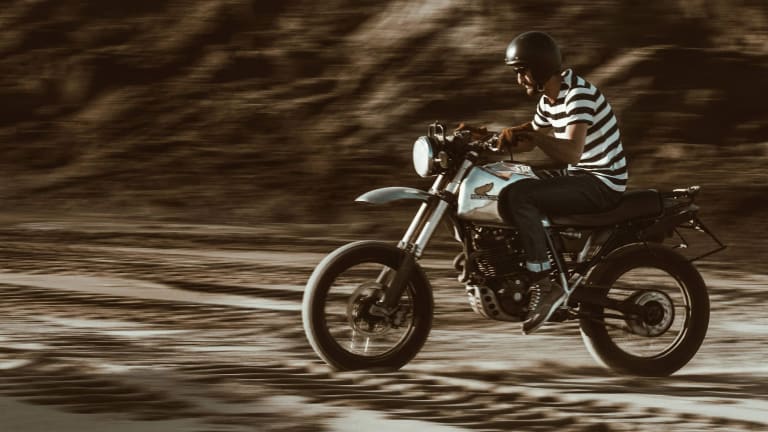 This Awesome Striped Shirt Will Change Your Mind About Poly Blends
It used to be that "poly blend" was a dirty word among clothing purists, who favor the likes of cotton, linen and silk, however fragile, over so-called miracle fibers. And truth be told we've always been one of them, without much expectation of having our minds changed.
Until now that the apparel artisans at Taylor Stitch have taken up the cause. They've already proved adept at reinventing fabrics, from hemp to waxed canvas and lightweight denim. Now it's the turn of much-maligned polyester.
Their cool new Heavy Bag Tee in natural navy stripe looks and feels like pure cotton, which is, of course, the point. Examine the label however and you'll see that it is in fact 48% polyester.
Recycled polyester to be specific, which along with the "upcycled" 8-oz. cotton makes this the first truly waterless fabric, saving thousands of gallons of H20. So it's not only extremely soft and durable but good for the planet too.

In case you haven't noticed this is where fabric is trending as principles like farm-to-table are finally applied to the clothes on our backs. So forget your prejudices and just focus on how fantastic this shirt really is.
A nod to the "effortless wave riding" of early surf pioneers, the striped Heavy Bag tee is "meant to be pulled over salty hair, sunburnt shoulders, and a pair of Birdwell Beach Britches," but if you wear it under a blazer we won't look askance.