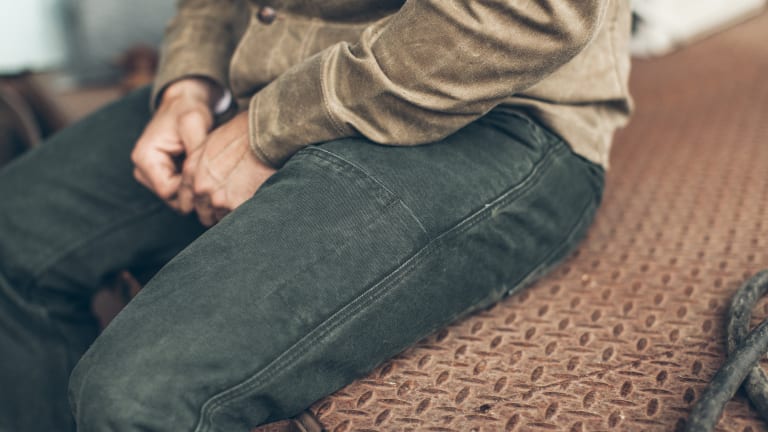 These Work Pants from Taylor Stitch Might as Well Be Indestructible
Serious pants for serious work and serious play.
'The right tool for the job' is one of those idioms that seems destined to never leave the conference room. But when you're talking about tangible tools, that saying actually has potent validity outside of the office – you wouldn't ball in Chuck Taylors (unless you're Bill Russell, of course) and you sure as hell wouldn't bring designer denim on a camping trip. And now, you won't have to.
Taylor Stitch just restocked their biblically durable and long-lasting Chore pants - a tailored, 12 oz. duck canvas pant perfect for anything involving gears, grease, or grime. Mix together a heavy, plain-woven cotton and TS's time-tested fit with American manufacturing & you've got one killer combination, all for less than 100 bucks. It goes without saying that these modern-fit trousers guarantee a level of enduring craftsmanship that you'll struggle to find anywhere else.
Given that the Chore pant drew upon inspiration by vintner culture, it makes perfect sense that the business ethos-sharing, canned vino-slinging Union Wine Co. showcased their latest iteration. This version, which will be up on their site in September, is the first to be put through a stone wash, giving them a broken-in feel from the get-go and also accentuating the stitching detail. It's ultimately a subtle stylistic upgrade to an already well-tailored work pant that comes at no cost to quality or durability. The result is a pair equally equipped to carry you from the workbench to the bar (although we'd still advocate a shower in between).
The mission has remained steadfast throughout the three life-cycles of the Taylor Stitch Good Acre Collection: create 'tough as nails' workwear inspired by the history of our nation and forged right here on home turf. The double-reinforced knee Chore pant is emblematic of that promise. And, judging by how many pairs of these years-old originals we found floating around, still in commission, Taylor Stitch takes that whole durability thing pretty seriously.
Those khaki-colored britches above belong to real Taylor Stitch customer and co-founder of Headlands Brewing Co. Patrick Horn, who describes them as his everyday pants for years "whether in the brewery or chasing my kid on a hike. They're simply built for my life." Robert Rahm has been sporting the first run of the Chore pant while hand-building furniture for and running the Pacific Northwest-based Marrow Goods.
All of Taylor Stitch's design and most all manufacturing is done in Northern California, a location that CEO Michael Maher says serves as both creative catalyst and (outdoor) proving grounds. "It's a world-class metropolitan area with an amazing range of food, music and art," he added. "Wine country, Big Sur, Yosemite, and Lake Tahoe are all just a few hours away as well. There's just so much to draw inspiration from." Those worn-to-hell-and-back green ones up the page have apparently seen him through countless upstream fishing weekends. "These are the first thing I grab whether I am painting my bathroom a 3rd color my better half decided on or I'm headed to chase trout on the fly in the Owens River Valley."
Denim is great, but for all those times that it doesn't make the cut (like your buddies last minute Half Dome invite), you're thankful that you've got a more apt arrow in your quiver. Take a look at the full collection here.