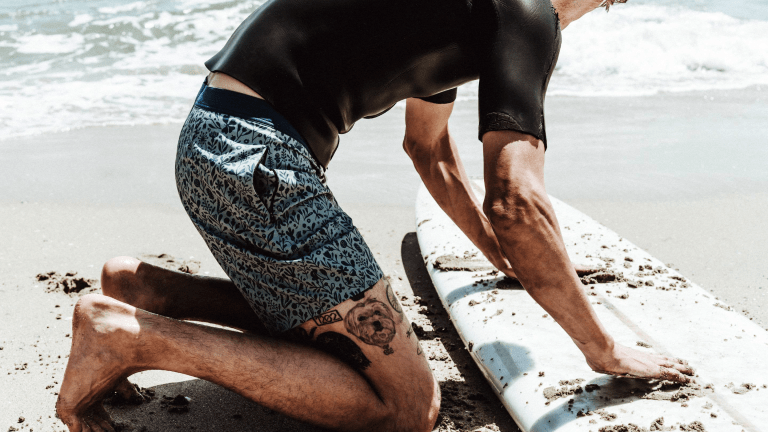 Taylor Stitch's New Boardshorts Will Have You Shouting 'Surf's Up!'
Taylor Stitch Creative Director Mikey Armenta loves everything about surfing, starting with the vintage VW wagon he uses for trips to the beach. Now the bravura menswear brand is helping get summer started off right with a new limited edition collection of board shorts featuring fabric custom developed by Amenta and his crew.
Dubbed the Bo Boardie, the cool, comfy shorts are ideal for "the next time you visit your favorite swimming hole, surf spot, or pool," complete with a button fly, convenient drawcord and hidden zip pocket so you're always ready to ride a wave or kick back on a chaise lounge.
The custom fabric is in fact recycled polyester, in keeping with Taylor Stitch's mission to make the world a better place one garment at a time. It has the strength and flexibility of 'virgin' polyester but is manufactured using post-industrial and post-consumer plastic waste, which helps keep the stuff out of our oceans and landfills.
A touch of spandex has been added for ultimate comfort, while the finished product is quick drying so it won't slow you down. The Bo Boardie comes in three colors/patterns: Navy, Sea Floral, and Building Blocks, to suit all tastes – just remember these are 'small batch' and won't last long now that summer's here.