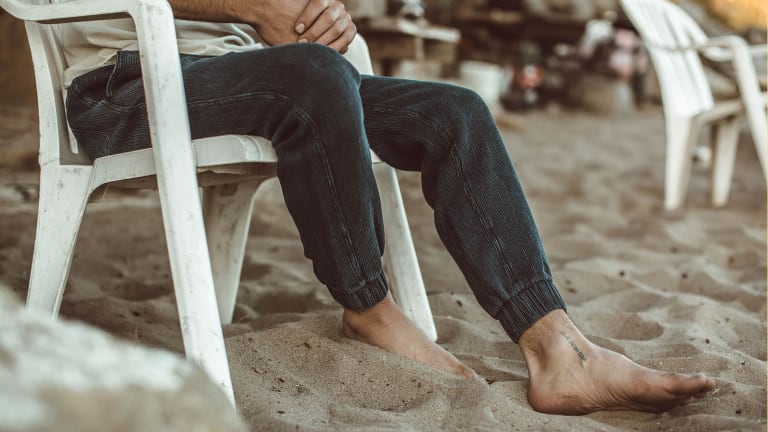 Don't Call These 'Sweatpants' – They're Too Damn Stylish
Taylor Stitch has mastered the art of taking items of clothing we think we've known our whole lives and transform them into something exponentially better without losing the essential character of each piece. It's a sort of sartorial sorcery at first glance but is in fact due to the S.F.-based apparel artisans' incredible attention to detail, obsession with perfecting fabrics and fits, and willingness to travel the world in search of whoever can make each garment better than it's ever been done before.
Which brings us to their latest bit of magic, the Après Pant in indigo waffle. This is a new item in the brand's burgeoning line of Après apparel, including a must-have hemp fleece hoodie, designed for the moments in life "when we've checked all the boxes on the to-do lists" and the only thing left is to chill the f––k out at home wearing the most comfortable clothes imaginable.
Of course, Taylor Stitch wouldn't be content to merely sell you a pair of sweatpants. So they went to Turkey to find some waffle weave cotton dyed a deep indigo blue in the perfect 5 oz. weight and create their own stylish take.
Only the fabric was a bit too stiff at first acquaintance. So the T.S. crew had the bright idea of washing it – but not too much – to bring out the waffling, soften it up and give it some lived-in character from the get-go.
All of which will only become more pronounced with every subsequent wash and wear. A drawstring waist, elastic cuffs and dark horn buttons round out the finishing touches, and when all is said and done, these would look equally cool with a softly tailored knit blazer – if you do ever feel like leaving the house. Pick up a pair today.