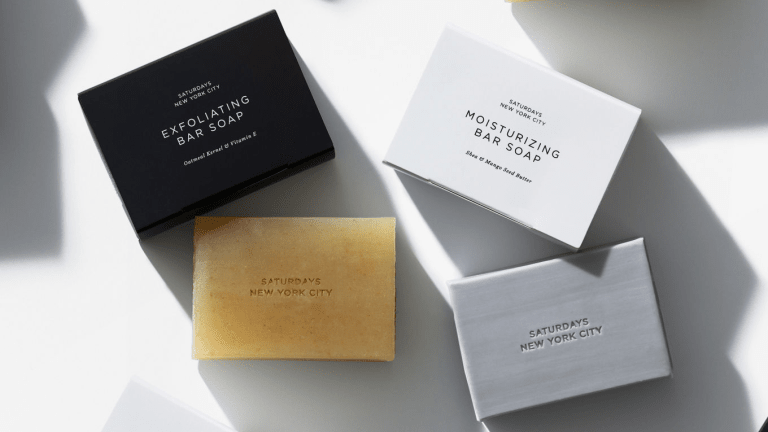 Saturdays NYC Expands Grooming Range With Shaving Cream and Bar Soaps
On top of their booming menswear business, Saturdays NYC has been quietly building out an impressive grooming line with cruelty-free, made-in-the-USA products that have some of the most beautiful packaging design in the category. Doubling down on it, they just added two bars soaps (moisturizing and exfoliating) as well as a shaving cream to their product suite, expanding from hair care to body care.
The moisturizing soap is formulated with shea butter and mango seed butter to soothe and moisturize dry skin, while the exfoliating soap gently cleanses and repairs skin courtesy finely-ground oatmeal kernels and added Vitamin E. Each are scented with a combination of sandalwood, grapefruit, lavender and cedar wood.
Their shaving cream consists of a special formula composted of coconut and almond oil and is a far cry from the old school kind your local gym outfits the locker rooms with. The almond oil is a natural moisturizer (and even helps combat stress, UV damage and acne flare-ups) and the coconut oils help get a silky, close shave without the razor burn.
Available now through SaturdaysNYC.com, these would be a sharp addition to your AM routine while also adding some great design to your bathroom.