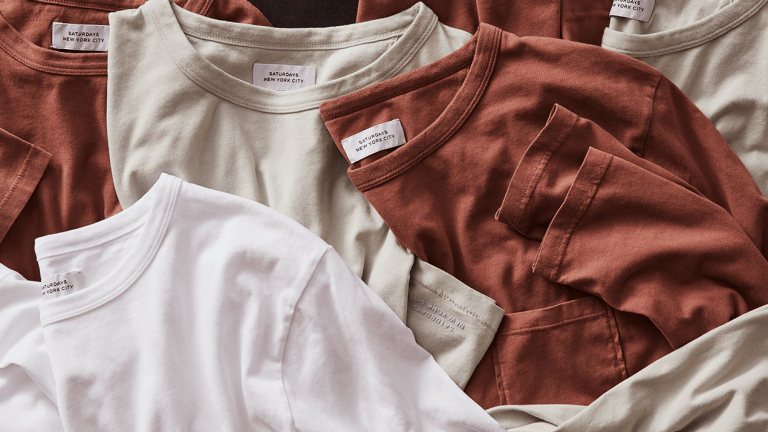 Five of Our Favorite Pieces From Saturdays' Black Friday Sale
An AIROWS favorite, Saturdays produces apparel with just the right amount of coastal influence, while still appropriate for wherever you are. Giving you more than a four-day dash of shopping mayhem, their Black Friday sale is underway early and lasts through November 30. It's a great time to snag some items you may have had your eye on at 25% off with code: Friends25. And if you're not familiar with their collections, may we recommend:
Emil Leather Collar Jacket Stone Washed Indigo, $169 ($56 Off With Code: Friends25)
In a time when denim jackets are commonplace, this one mixes things up with a leather collar and stonewashed coloration. Wear it layered over a long sleeve tee and cashmere sweater in colder climates or with a casual button down for our friends in sunnier locales.
Mateo Modal Button Down Shirt Dusty Rose, $128 ($43 Off With code: Friends25)
A modern take on the classic bowling shirt, the Mateo Window Shirt features contrasting collar and sleeve details that make this a stand-out. Its comfortable fit and silky drape is ideal for a weekend away with cocktail in-hand.
Dominick Long Sleeve T‑Shirt Black, $109 ($36 Off With Code: Friends25)
A lightweight knit is a winter closet staple. It easily pairs with virtually any pant or denim and will keep your look polished. This rendition, The Dominick, hits all the right notes and is priced just right.
John Chino Pant, $120 ($40 Off With Code: Friends25)
The chino pant is style's gift to mankind. They're versatile enough to wear any season and can sport several styles based on the items with which they're paired. Pair with a crisp tee or cashmere sweater for a classic look.
Crosby Button Down Oxford Shirt Midnight, $90 ($30 off With Code: Friends25)
A staple for the brand, the Crosby Button Down Oxford is another essential you'll find yourself reaching for over and over again. This midnight blue colorway adds a richness to your ensemble and a minimal contrast with its white buttons. Appropriate for nearly any occasion, you'll be glad you made the purchase, trust us.