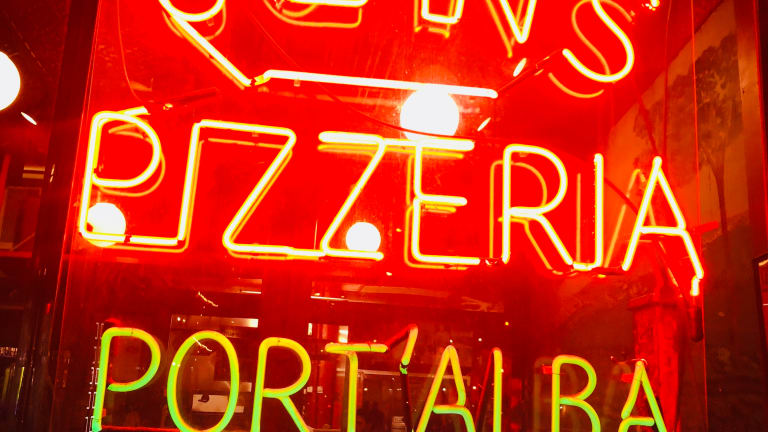 Rowing Blazers x John's of Bleecker Street Launch Cool Collab
Rowing Blazers — the notable NYC brand founded by author, archaeologist, and U.S. national team rower Jack Carlson — has linked up with another New York institution, John's of Bleecker Street, on a cool capsule collection consisting of five ltd. edition pieces, each featuring throwback versions of the beloved pizzeria's logo: the "Mario" bricks logo and the "NO SLICES" logo.
"John's of Bleecker is my favorite pizza place in New York City," notes Carlson. "John's is famous for having the oldest pizza oven in New York City, and for its strict 'NO SLICES' policy. As a regular, I always enjoy sitting in the main dining room and watching the neophytes come in and say 'Let me get two slices of—,' only to be interrupted with the John's motto: 'No slices.' It's on the awning outside and basically, everywhere you look in the restaurant (including a piece of original artwork by another notable John's fan, Baron von Fancy, hanging in one of the dining rooms). But you're going to want a whole pie anyway."
He continues: "John's is, among other accolades, also the most consistent pie in New York. Perhaps that's the result of the incredible team, which includes many who have been at John's for decades. You can spot them, because they're wearing John's gear with vintage versions of the pizzeria's logo. Two of my favorites are what we call the 'Mario Brothers' bricks logo, and (what else?) the 'No Slices' logo, which consists of a little embroidered pie and the words 'NO SLICES' in all-caps. We've collaborated with the amazing folks at John's to recreate some of this vintage apparel with the original logos. They're old school and look almost bootleg. But they're not. This limited edition capsule is the real deal — just like John's of Bleecker Street."
If you like the looks as much as we do, the collection is available exclusively right here with pricing kicking off at $48 USD.