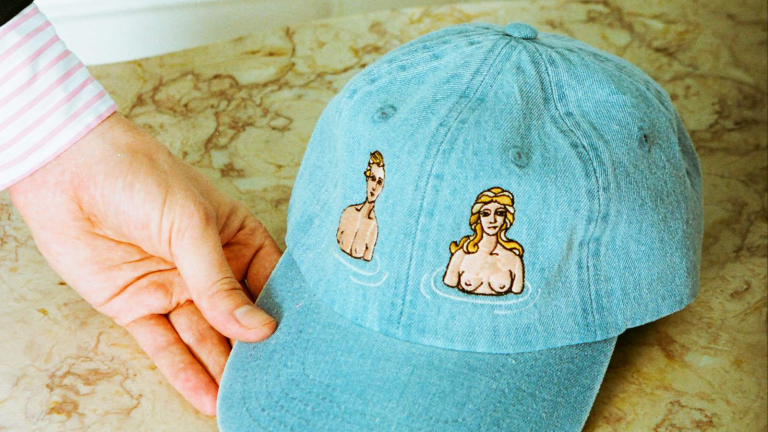 These Go-to-Hell Hats Are the Kind of Irreverent Style We Need Now
When the going gets tough, the tough get handsome—because as every well-dressed gent knows, truly stylish clothing is like a suit of armor. Don't however, overlook the headgear. The right hat can help you hold your head up high. And Rowing Blazers has got us covered.
The New York-based brand founded by author, archaeologist, and U.S. national team rower Jack Carlson, and, his girlfriend, national champion oarswoman Keziah Beall, has always been a stalwart of irreverent, prep-toned style. And their go-to-hell aesthetic has never been more appealing than in these trying times.
As for the hats: Rowing Blazers has a damned fine collection of them for spring/summer. They've expanded their repertoire of corduroy classics, and added some bold new designs and colors. The line of new Split Hats—with each half featuring a different color straight out of the WASP playbook—include cool mashups like this purple and yellow number, and red and blue if you want to keep it classic.
Made in New York of pure cotton, they're a wise investment at just $48. Want to amp up the insouciance? Check out this patchwork madras beauty, made of genuine Indian cotton madras guaranteed to fade perfectly over time.
Then there's a series of caps featuring RB's signature cheeky embroidery, including the Loch Ness monster and Adam and Eve out for a swim. And each one has a cool backstory and set of references, from Oxford rowing blazers to the colors of Prince Charles' club ties.
If you like what you see, head here to shop through all the different looks and find a cap or two that's right for you. And make sure to use the code "AIROWS10" at checkout for 10% off your order.