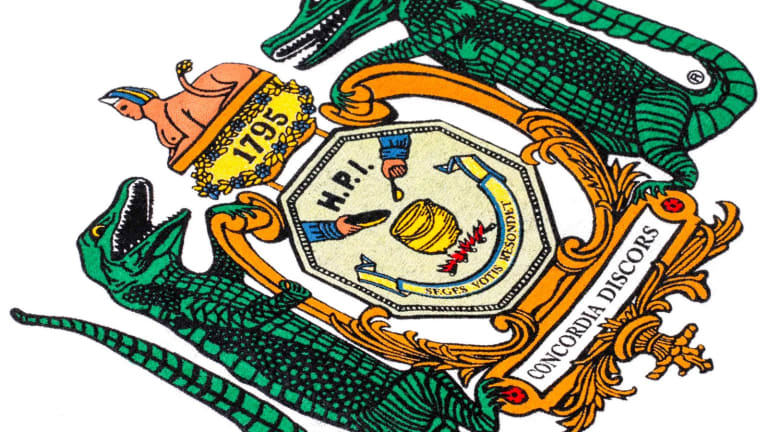 These Ivy League-Inspired Shirts and Caps Are an Impeccable Way to Do Irreverent Prep
Founded in 1795 as an artistic-minded fraternity at Harvard, Hasty Pudding is an Ivy League institution that's now both a social club and theatrical society famed for its annual comedic musical productions. Five presidents have been members (John Adams, John Quincy Adams, Theodore Roosevelt, FDR and JFK while more recent alums include Andy Borowitz (creator of The Fresh Prince of Bel-Air) and Rashida Jones.
Perfect fodder for Rowing Blazers, the irreverent, perfectly tailored preppy-and-beyond brand founded in New York in 2017 by author, archaeologist, and U.S. national team rower Jack Carlson, and, his girlfriend, national champion oarswoman Keziah Beall.
Rowing Blazers' Hasty Pudding Collection is as spot on as one of the club's famous satires. It includes rugby shirts, sweatshirts, t-shirts and baseball caps, all of course impeccable for wear on campus but just as dashing and even more of a statement on the streets of Manhattan or Los Angeles.
The pieces each feature one of Hasty Pudding's cheeky logos and illustrations, including the iconic tragedy and comedy masks, a sphinx, and some alcoholic alligators bearing an uncanny resemblance to late WASP icon William F. Buckley, Jr.
Prices are eminently reasonable for such unique designs, ranging from $48 for a tee to $195 for a sweatshirt. The cool corduroy sphinx caps, in burgundy or dark green, are embroidered by hand and cost $48 as well; there's also a light blue twill version.
The reverse-weave crewneck sweatshirts fashioned from 12 oz. reverse-weave heavyweight cotton are made in the U.S.A., as are the 100% cotton t-shirts available in a range of colors and designs.
All in keeping with RB's ethos: "For us, classic doesn't mean stuffy and pretentious. On the contrary, we actually think that the classics – done right – can be inclusive, upbeat, irreverent, and youthful."